The United Arab Emirates football team arrived in Ha Noi yesterday for their Group C 2007 Asian Cup match against Viet Nam on Sunday night.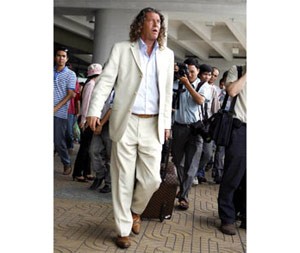 UAE's coach Bruno Metsu at Ha Noi's Noi Bai Airport
According to Coach Bruno Metsu of the Gulf Cup champions, his team is short on players due to a number of injuries, "Seven key players of my team are suffering injury so they could not come to Viet Nam with us," he said to local sport journalists.
The injury problem made the French coach prudently reply to the question about UAE's target at this year's competition, "We don't have any prime target for the 2007 Asian Cup. We will think about that only when advancing to the quarter final".
Talking about Viet Nam's team, Bruno Metsu highly praised the host side's friendly victories over Jamaica and Bahrain and recognized that his rivals are a strong team, particularly when playing at home.
He also anticipates that Japan will take top spot in Group C's quarterfinal round while UAE, Qatar and Viet Nam will race for the other.