A scintillating display by Viet Nam earned them a whopping 5 – 3 victory over Bahrain in a friendly match at Ha Noi's My Dinh Stadium on Saturday.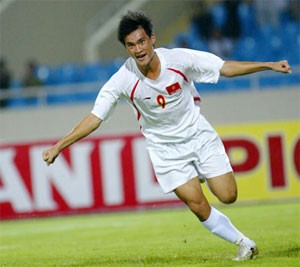 Le Cong Vinh celebrates after scoring the equalizer
Striker Abdulrahman fired in Bahrain's opener but Viet Nam's star forward Le Cong Vinh struck twice before the break to lead 2 – 1.
Midfielder Mai Tien Thanh extended the lead in the 52nd minute before two goals of Bahraini strikers Ala'a Hubail and John Akwani respectively restored parity.
Viet Nam's striker Phan Thanh Binh then fired home from a rebound before fellow striker Anh Duc's shot rounded off Viet Nam's amazing win.
The visitors, who advanced to the semifinal round of last year's Asian Cup, had come out strongly and they quickly took the early lead in the 3rd minute with Abdulraman's finish.
Ala'a Hubail broke behind Viet Nam's center defenders Nhu Thanh and Huy Hoang to fire in a fierce shot that was tipped away by goalkeeper Hong Son, who then could not stop Abdulraman from firing on an empty net.
But the host side hit back eight minutes later when Le Cong Vinh outjumped Bahrain's defenders to head Vietnamese defender Van Nhien's long cross from right wing into the net.
Defender Ismael Omar nearly put Bahrain in front in the 16th minute with his powerful shot outside the box, which was just an inch wide of the pole.
        
The home team luckily took the lead soon after when Bahraini keeper Ali Hussain's goal kick hit Cong Vinh and the prolific striker made no mistakes as he netted in.
The visitors fought back in the 20th minute when Abdulraman forced a nervous save from goalkeeper Hong Son with a fierce shot from long range.
Mohd Hussain should have put Bahrain level three minutes later when his header was off-targeted when goalkeeper Hong Son raced out too far.
Viet Nam also had a chance to extend their lead in the 24th minute when Cong Vinh unlocked Bahrain's defense with a delicately low cross to Thanh Binh, who was unmarked inside the box, but goalkeeper Ali Hussain raced out in time to intercept.
Bahrain's rally began in the 28th minute when Ala'a Hubail was one second late to net in a dangerously low cross inside the penalty area in the 28th minute before Salman Isa sent in a powerful shot five minutes later from close range.
     
Ali Ahmed almost scored the equalizer in the 37th minute when he moved past Vietnamese defender Huy Hoang before striking straight at goalkeeper Hong Son.
Soon after, Salman Isa held off Van Nhien to fire a fierce shot inside the box, but it sailed wide.
The home team fought back with defender Mai Tien Thanh striking straight at goalkeeper Ali Hussain in the 41st minute and midfielder Van Nhien testing the Bahraini goalkeeper in the 43rd minute with a powerful shot from the edge of the box.
The visitors' coach Milan Macala threw in Bahraini strikers Talal Yousouf and John Akwani after the interval to add more power to the frontline.
But skipper Ali Hussain's error gave Viet Nam its third goal in the 53rd minute. The Bahraini goalkeeper failed to hold onto Mai Tien Thanh's slight shot from 30 meters and the ball rolled into net.
A shocked Bahrain then rushed for the equalizer with several attacking spells and they reduced the deficit in the 62nd minute when Abdulrahman headed Ala'a Hubail's beautiful long cross from the left wing into the net.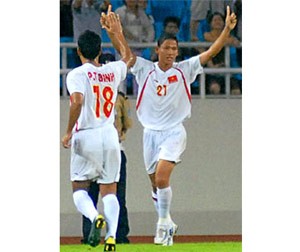 Anh Duc (right) celebrates with Phan Thanh Binh after scoring the last goal
Six minutes later goalkeeper Ali Hussain gave a marvelous performance when he tipped away midfielder Vu Phong's close-range header and somehow managed to deny a powerful volley from Vietnamese midfielder Le Tan Tai right after.
The visitors were back into the game in the 72nd minute when John Akwani broke loose in time to beat goalkeeper Hong Son in a one-on-one challenge.
But Viet Nam regained the lead five minutes later when goalkeeper Ali Hussain once again failed to hold onto Van Nhien's long-range shot and Phan Thanh Binh reacted quickly enough to fire home.
The host side got the final word that they richly deserved in the 87th minute with striker Anh Duc finishing in the empty net after performing a superb move that fooled the rival goalkeeper.
Viet Nam: Hong Sơn, Văn Nhiên, Huy Hoàng, Như Thành, Tiến Thành, Vũ Phong, Tài Em, Minh Phương, Tấn Tài, Công Vinh, Thanh Bình.
Bahrain: Ali Hussain, Hussain Mohd, Abdullah Rahman Marzooq, Mahmood Abdulrahman, Rashed Rahman, Ali Ahmed, Abdullah Baba, Salman Isa, Ismael Omar, Hussain Maki, Ala'a Hubail