The Japanese football team yesterday was warmly greeted by fans and sport journalists when they arrived at Ha Noi's Noi Bai Airport as Group B's 2007 Asian Cup qualifiers.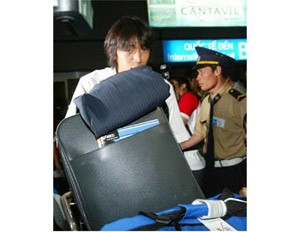 Japanese star Shunsuke Nakamura at Ha Noi's Noi Bai Airport
While Coach Ivica Osim refused to talk with journalists at the airport, Japanese star Shunsuke Nakamura said that Viet Nam will be the most dangerous rivals for his team.
The defending champions will take on Qatar at Ha Noi's My Dinh Stadium on Monday without two center-defenders Marcus Tulio Tanaka and Hiroki Mizumoto and striker Ryuji Bando, who are suffering injury.
Coach Ivica Osim, therefore, replaced the Gamba Osaka striker with Naki, who will line up alongside top scorer Naohiro Takahara in Japan's first clash.
As a result, the Japanese squad will include nine out of eleven players who played at last year's World Cup in Germany.