Phan Thanh Binh scored the opening goal in Viet Nam's Group B draw against Qatar at the My Dinh Stadium yesterday. Reporter Minh Hieu of Sai Gon Giai Phong Newspaper talked to the Dong Thap Club's striker. Excerpt:
Reporter Minh Hieu: How do you feel after scoring against Qatar?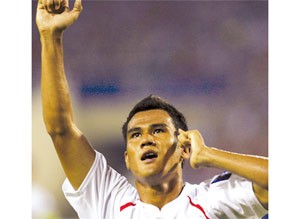 Viet Nam's striker Phan Thanh Binh celebrates his goal against Qatar
Phan Thanh Binh: I was so happy. The goal resulted from a team effort and a little bit of good luck. I still regret that Viet Nam lost their victory late in the game, but earning one point is a big success anyway.
What do you think about your side's performance in the match?
They are superior to us in many ways, so they could pile on the pressure in the opening stages. However, we played well and gradually took control of the match. In spite of losing the win late on, we fought with ten-out-of-ten strength. After our display against Qatar, I believe Viet Nam will be good enough to deal with Japan.   
Do you think Viet Nam, with four points, will be able to go to the quarterfinals?
Despite the last match against Japan promising to be very difficult, I believe our team will capture a spot in the quarterfinals. All we have to do is to stay focused and take full advantage of the fact that we are playing at home.