Vietnamese striker Le Cong Vinh, who scored the magnificent winning goal against the United Arab Emirates in their Group C 2007 Asian Cup opener last Sunday, is confident of a quarterfinal spot for his team later this month.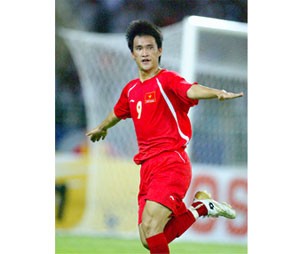 Viet Nam's striker Le Cong Vinh
"It was a very interesting match and it will go down in the history of Vietnamese football," the under-23 player told www.afcasian.com, the event's official website.
"It's also the biggest victory in Viet Nam's football history. I'm so happy to have scored that second goal."
The in-form striker, who has a prolific scoring rate for club and country, is without a doubt the best Vietnamese player since the recently retired Le Huynh Duc.
Earlier this year Vinh scored three goals for Viet Nam's under-23 side in the Beijing Olympics qualifying matches.
"We have a glorious chance to advance to the next round after starting this year's Asian Cup with a win," he added. "The team is very confident and we believe we can move to the quarter-finals. It is now an open group and Vietnam has an excellent chance.
"On paper, Viet Nam was the weakest team in the group when the competition began but now Qatar and Japan must be looking at us in a new light. The fans are very important; they urge us on and give us strength when it matters."
Cong Vinh was overflowing with praise for his Austrian coach, Alfred Riedl: "The boss has a great effect on the team; not only is he our coach, he is also a friend."