* Pisico Binh Dinh's victory over Hoa Phat Ha Noi at Quy Nhon Stadium on Sunday helped them move from sixth to fourth place in the V-League and pushed the visitors further into the relegation zone.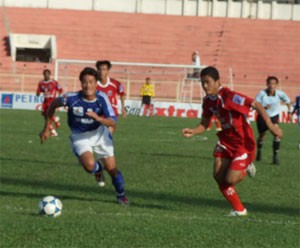 Pisico Binh Dinh's Sarayoot (red) vies with a Hoa Phat Ha Noi's defender
Xuan Thanh sent the ball into the net in the 16th minute but referee Vo Minh Tri ruled that the host side's striker was offside.
Pisico Binh Dinh took the lead in the 27th minute when a shot by defender Van Dung was tipped away by goalkeeper Manh Dung but the rebound went to Sarayoot, who fired the ball home.
Soon after the opening goal, the home team's defender Thanh Loi fouled with a handball inside the box, giving Brazilian striker Da Silva a penalty kick that brought the visitors level.
Prolific Sarayoot doubled the lead before the interval when he got around Manh Dung again from a 20-meter free kick.
It was 3-1 to the host side in the 61st minute when Kim Binh went down inside the Hoa Phat Ha Noi penalty area following a foul by Rwandan defender Alphonse, and striker Bruno made no mistake in scoring from the penalty spot.
The visitors pulled a goal back in the 85th minute when striker Cao Sy Cuong delicately lobbed the ball over goalkeeper Minh Quang, who had raced out too far from the woodwork.
Pisico Binh Dinh: Minh Quang, Van Dung, Bruno, Ngoc Bao, Aniekan, Minh Minh, Sarayoot, Khoa Thanh, Xuan Hung, Kim Binh, Thanh Loi
Hoa Phat Ha Noi: Manh Dung, Nhu Thuan, Hai Nam, Leandro, Dinh Quy, Alphonse, Hong Viet, Anh Cuong, Van Hien, Xuan Thanh, Da Silva
* A sloppy performance by goalkeeper Santos gave Khatoco Khanh Hoa victory over the traveling Dong Tam Long An at Nha Trang Stadium on Sunday.
The host side took the lead in the 25th minute when Santos failed to hold onto a Thien Hai free kick, allowing striker Jonathan to tap in the deflected ball.
Soon after the opening goal, Khatoco Khanh Hoa's goalkeeper Van Thach diverted a fierce shot from Vietnamese national midfielder Minh Phuong from outside the box but playmaker Tai Em appeared in time to put the visitors level with a header.
The match-winning goal for Khatoco Khanh Hoa came in the 51st minute when midfielder Tan Tai profited from a Santos error after his gentle left corner kick went straight through the goalkeeper.
Khatoco Khanh Hoa: Van Thach, Ngoc Dieu, Tan Dien, Thien Hao, Ngoc Quy, Tan Tai, Van Phong, Trong Binh, Nouhoum, Mustapha, Jonathan
Dong Tam Long An: Santos, Van Giau, Minh Phuong, Antonio, Tai Em, Tshamala, Minh Tri, Tuan Phong, Thanh Giang, Nhat Tien, Xuan Hoang
The V-League Petro Viet Nam Gas 2007 Table:


Team
P
W
D
L
Pts
1
BECAMEX BINH DUONG
 15
 11
3
1
36
2
DA NANG
 15
 7
5
3
26
3
HALIDA THANH HOA
 15
 6
7
 2 
25
4
PISICO BINH DINH
 15
 6
4
5
22
5
DONG TAM LONG AN
 15
 6
4
5
22
6
HOANG ANH GIA LAI
 15
 6
3
6
21
7
SOUTHERN STEEL SAIGON PORT
 15
 5
4
6
19
8
SONG LAM NGHE AN
 15
 4
6
5
18
9
NAM DINH
 15
 4
6
5
18
10
KHATOCO KHANH HOA
 15
 5
3
7
18
11
HA NOI ACB
 15
 4
4
7
16
12
HOA PHAT HA NOI
 15
 3
6
6
15
13
DONG THAP
 15
 3
6
6
15
14
HUDA HUE
 15
 2
5
8
11