Viet Nam's top badminton player Nguyen Tien Minh jumped from 64th to 47th in the latest monthly ranking released by the International Badminton Federation (IBF) for June, 2006.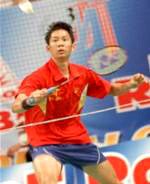 Nguyen Tien Minh
He has accumulated 11,610 points in the men's singles. This position is the highest for Minh, a Ho Chi Minh City player, so far. He was the first Vietnamese player in the IBF top 100 two years ago, and won the men's singles of the Robot Viet Nam Satellite tournament in April 2006 – the first ever title for a Vietnamese in the tourney.
Chinese player Lin Dan topped the IBF men's singles table with 40,663 points, followed by Lee Chong Wei of Malaysia with 37,233 points, and Denmark's Peter Gade with 35,029 points.
Malaysia has four players in the world's top 13, Indonesian Hidayat Taufik is at 14th, and Thai Ponsana Boonsak at 15th.
In women's singles, leading Vietnamese player Le Ngoc Nguyen Nhung is at 149 with 3,828 points.
Nguyen Quang Minh/Tran Thanh Hai are 57th in the men's doubles, Ngo Hai Van/Nguyen Nhung 139th in the women's doubles, and Thanh Hai/Nguyen Nhung are 54th in the mixed doubles.
Tien Minh will compete in the US$170,000 Aviva Open Singapore tournament from June 5 to 11. Among the competitors are world No.3 Peter Gade, who is the first seed of the tourney, and aces like Chen of China and Jonassen, also of Denmark.
Link
IBF latest rankings

Related article
Tien Minh Secures Victory in Int'l Badminton Tournament