PARIS, March 7, 2011 (AFP) - The unlikely setting of North London could by Thursday morning have two Champions League quarter-finalists while the once dominant force in the competition Italy could have lost two of its three representatives after the first batch of Last 16 second leg matches this week.
Arsenal and Spurs go into Tuesday and Wednesday's clashes with Barcelona and AC Milan holding a 2-1 and 1-0 advantage respectively and a real chance of two sides who have no European Cup/Champions League trophies to their name of eliminating two teams with 10.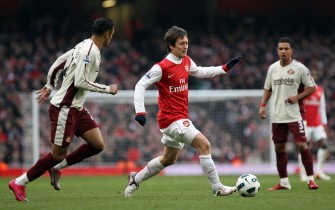 Arsenal's midfielder Tomas Rosicky (2nd L) vies with Sunderland's midfielder Ahmed Elmohamady (L) during the English Premier League match between Arsenal and Sunderland in England on March 5, 2011. AFP
Milan's fellow Serie A side AS Roma also face a tough task on Tuesday in qualifying as they visit Ukrainian league leaders Shakhtar Donetsk trailing 3-2 and bidding to become the first away side to win a European match in the forbidding environs of the mining region since Sporting Lisbon in October 2008.
Should both Italian sides go out it would leave only holders Inter Milan in the competition and they go to Bayern Munich next week needing to overcome a 1-0 deficit.
Also against both Roma and Inter's prospects of reaching the last eight is that only one side has previously overcome a home loss in the first leg of the post group stage matches to reach the next round since the Champions League replaced the European Cup - Ajax defeating Panathinaikos in the 1995/96 semi-finals.
The week's other match sees German Cup finalists Schalke 04 host Spanish outfit Valencia with a slight advantage having drawn the away leg 1-1.
Arsenal go into the match at the Nou Camp on the back of a disappointing last week with a devastating late loss to Birmingham in the League Cup final and a 0-0 draw at home to Sunderland - though their Premier League title apsirations remain very much alive after Manchester United lost to Liverpool on Sunday.
The Gunners too are likely to be without the injured influential pair of Theo Walcott and Cesc Fabregas though promising young English midfielder Jack Wilshere has said he is ready to play despite taking a knock to his ankle in the Sunderland match.
While Wilshere is confident of completing the task in Barcelona, Wenger is more wary and is worried about the effect the results in the past week may have had on his weary players.
"We have played now 11 games, eight wins and three draws," he said. "So we are quite consistent with our results.
"This result comes at a bad moment, I agree with you. We lacked sharpness and technical quality in the final third."
Wenger, though, can be encouraged by the fact his strikers will be taking on a makeshift central defence pairing as Gerard Pique is suspended and captain Carles Puyol is still labouring with a left knee injury.
Also suffering is Barca coach Pep Guardiola, who returned to hospital with his bad back after Saturday's 1-0 win over Real Zaragoza, though, he is scheduled to leave there on Monday.
His assistant Tito Vilanova, though, is expecting that Barca will have plenty of opportunities to try and get back on terms with their opponents and also has no concerns about star player Lionel Messi feeling the effects of virtually being an ever present this season.
"I'm sure Arsenal won't come here to defend," he said.
"Regarding Lionel Messi one day he'll need a rest but he feels good and he always wants to play."
Spurs are in totally uncharted territory having never before competed in the modern era Champions League but have thus far been one of the best sides to watch and will be boosted by the return of their much-coveted Welsh attacking midfielder Gareth Bale.
Bale returned to action as a replacement in the thrilling 3-3 away draw with Wolves on Sunday and manager Harry Redknapp is likely to start him on one flank with England international Aaron Lennon perhaps on the other after he impressed against Wolves.
"He (Bale) looked alright didn't he," said Redknapp.
"I would have no problem with him starting."
Milan will be without combative midfielder Gennaro Gattuso, who was suspended anyway because of picking up a booking in the first leg but exacerbated his punishment by headbutting Spurs assistant manager Joe Jordan after the match.