PARIS, June 6, 2010 (AFP) - It took her 12 years and 39 Grand Slam tournaments, but Francesca Schiavone insists that her historic French Open victory is proof that the impossible can happen.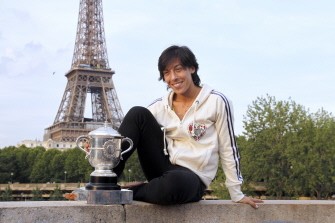 Francesca Schiavone poses with her trophy at Bir Hakeim bridge near the Eiffel Tower on June 5, 2010 in Paris. AFP PHOTO
In a women's game dominated by big-hitting behemoths, the 29-year-old Italian, her country's first female Grand Slam champion, struck a blow for subtlety and variety when she defeated Samantha Stosur on Saturday.
It was a victory which had unlikely roots with the Italian forced to play her first round match in front of a sprinkling of spectators out on Court 12 at Roland Garros.
She defeated Russia's Regina Kulikova in a three-hour marathon under a blazing sun.
From there she went from strength to strength and after seeing off highly-rated Chinese 11th seed Li Na in straight sets in the third round, she felt that maybe this would be her year.
"This win shows that everybody has the chance to be who they really want to be, and to do everything in life. This is what has happened to me," said Schiavone who had never previously progressed beyond the last eight of a Grand Slam.
"Li Na, she has so much talent that you never know how she will play. So I think that was the first step to arrive where I am now.
"I played so good and so fast that when I won that match I said: 'I think I really can do it. I had the chance to win everything'."
Schiavone, one of the few women on the tour to still employ a one-handed backhand, kept Stosur on the defensive throughout her 6-4, 7-6 (7/2) win in Saturday's final.
She shortened the points, mixed up her movement around the court, switching from baseline to confident volleys at the net.
The end result was that Stosur, who had made the final by knocking out former number ones Justine Henin, Serena Williams and Jelena Jankovic, was never allowed to settle.
"My tactic was to keep going to the net, to press her on the backhand, and when I had the chance to go on the forehand," said the Italian, the second oldest first-time Grand Slam champion.
"My goal was to do that and to be aggressive and to go inside."
Schiavone, supported by a group of friends wearing t-shirts bearing the slogan "Nothing is Impossible", even received a telephone call of congratulation from the Italian president after the final.
But it was her parents she was thinking of most.
"I really always dreamed of winning this tournament. It's strange to say it, but when I called my daddy, he said to me: 'I remember you that you always dreamed this one. Every morning that you wake up, you work to do something like this," she explained.