PRETORIA, July 9, 2010 (AFP) - Brazilian President Luiz Inacio Lula da Silva said Friday he will not stay for the World Cup final in South Africa, saying he needed to attend to flood recovery in his country's northeast.
"I've been away for eight days, and there are many severe problems in Brazil," Lula told reporters after meeting with his South African counterpart Jacob Zuma.
"We have flooding in the northeastern state, and I sincerely believe that I need to return," he added.
Lula said he would have breakfast on Saturday with FIFA president Sepp Blatter before returning home.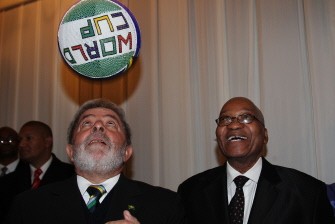 On this picture released by Brazilian Presidency Press Office Brazil's President Luis Inacio Lula da Silva(L) controls a fancy football observed by his South Africa counterpart Jacob Zuma late on July 9, 2010 after a dinner in Pretoria. AFP
More than 50 died in flooding in northeastern Brazil last month, but Brazilian media said Lula had lost interest in the final after his country was knocked out by the Netherlands, which plays Spain on Sunday in Johannesburg.
Lula reportedly said "neither I nor you" want to watch the match, when asked by Brazilian media.
Zuma said he understood the decision.
"I invited my brother to be here for the final, but he has explained why he cannot. I must say that in the same position I would have done the same thing," Zuma said.
Lula is in South Africa at the end of a six-nation African tour to boost his country's influence on the continent.