Pham Thanh Luong of Ha Noi yesterday beat his teammate Nguyen Van Quyet and Le Cong Vinh of Binh Duong to win the Golden Ball Award for the best Vietnamese footballer of the year.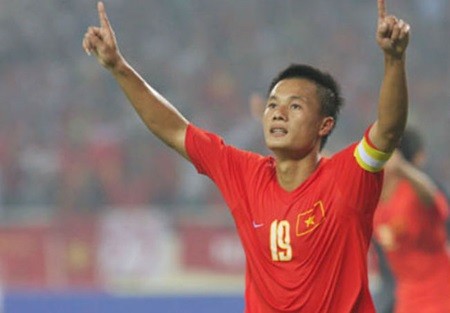 Hat-trick: Striker Pham Thanh Luong (Ha Noi T&T) won the Viet Nam's Golden Ball title for the third time yesterday. — Photo 24h.com.vn
In a ceremony held at HCM City's Ben Thanh Theatre, Luong, 27, took the prize for the third time, having won the prize in 2009 and 2011.
In a vote participated in by 129 sports officials, football experts, coaches, referees and journalists, Luong won 180 points.
"I feel very happy at the moment after a year of hard competition. There is only one Golden Ball Award, and all players are contenders. I'm just the lucky man tonight," Luong said at the ceremony.
"It's very special to win this for the third time. I just dream of giving my all playing football, bringing excitement to millions of fans in Viet Nam," he said.
Nguyen Van Quyet of Ha Noi took the Silver Ball prize, while Le Cong Vinh of Becamex Binh Duong received the Bronze Ball.
Vinh, who won the Golden Ball Prize three times in 2004, 2006 and 2007, failed to win the top prize for the best Vietnamese footballer of the year for the fourth time.
Midfielder Nguyen Thi Tuyet Dung, of Ha Nam won the women's Golden Ball.
"It's great for me. I want to share the prize with my family, teammates and coaches of Phong Phu Ha Nam and the national team," Dung said.
Two-time Golden Ball winner Dang Thi Kieu Trinh of HCM City won the Silver Ball and Nguyen Thi Minh Nguyet of Ha Noi took the Bronze Ball.
Nguyen Tuan Anh of Hoang Anh Gia Lai and striker Le Hoai Luong of HCM City were awarded the best young men's and women's player titles.
Senegalese striker Abass Cheikh Dieng of Becamex Binh Duong was chosen the best foreign player.
The African player helped the southern team win the National Football Championship, V-League, in 2014. He scored 16 goals to rank third in the list of top scorers.