MANCHESTER (AFP) – Roberto Mancini admits that Manchester City will have to improve considerably to carve out fourth place in the Premier League after an unconvincing performance in their 3-0 victory over Wigan.
City had to wait until Wigan had Gary Caldwell sent off to make the breakthrough through Carlos Tevez, who went on to score a 13-minute hat-trick to take his tally to 25 goals for the season.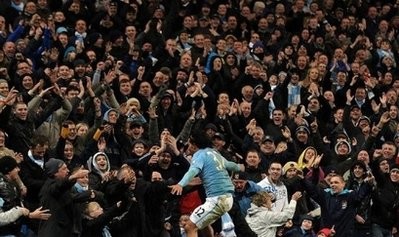 Carlos Tevez celebrates scoring his third goal against Wigan Athletic in Manchester, on March 29, 2010. AFP photo
But it was another fitful display as Mancini?s side moved up to fifth in the table, two points adrift of fourth-placed Spurs.
They travel to Burnley and host Birmingham before a run of matches against Manchester United, Arsenal, Aston Villa and Tottenham before finishing the season at West Ham.
Mancini thinks that City have to pick up their performances in their final seven games of the season.
He said: "We have seven games. I think that we must fight in every game. The next game will be a tough match but if we want to get fourth we have to fight and play better than against Wigan to have a chance.
"We know that we have a good chance to get the fourth position and we know that we must play well and battle with Tottenham and Liverpool.
"It?s important that we improve in the next games and important that we win the next games.
"Maybe Tottenham will be the game, probably, but before we play Tottenham we play other games, important games.
"It?s important that now we must win the next game and the other games. It will be difficult for us Liverpool and Tottenham but we are ready to fight."
Former Manchester United striker Tevez has now scored 21 goals in his last 19 matches.
And former Italy striker Mancini thinks that the Argentina international, 25, will continue to improve.
City have won every single Premier League game that Tevez has scored in this season and Mancini joked that he wants that run to continue.
He added: "For this I hope that Carlos scores a lot of goals in the next seven games!
"I think that now he scored a lot of goals but Tevez was always a good player when he played at Manchester United.
"He's a good player, he?s improved every year and now if he plays near the goal he can score a lot of goals.
"He's a young player but he?s getting better every year."
Wigan manager Roberto Martinez is hoping to appeal against Stuart Attwell?s decision to send off Caldwell.
Caldwell appeared to win the ball with one foot before wrapping his other leg around Tevez, who seemed to go in to the challenge with two feet.
The defender?s dismissal proved crucial and Martinez disputed the official?s version of events.
He said: "Gary said that he went in really strong and got the ball. As soon as he went in with the challenge, Carlos Tevez saw it and jumped off the ground and he's the one that left the ground with both feet.
"Gary won the ball with one foot as normal and I could understand if you give a free kick depending on what angle you see it.
"But to give a red card is really hard to explain. I don?t want to see people sent off. That decision, only the referee saw it.
"As a referee, if you don?t see something and you make a mistake because you couldn?t see something, we?re all human beings and we all make mistakes but to give a decision on something that you don?t see, that?s lying, you?re making it up and that?s hard to take."
Wigan remain four points above the relegation zone but Martinez is sure they will stay up.
He added: "We haven't had a lot of luck and we?ve had to work very hard for everything and we just need to keep showing the standards we have shown."
Martinez hopes to have first-choice goalkeeper Chris Kirkland, who missed the match at Eastlands with a virus, available again for the trip to Fulham on Sunday.