MANCHESTER, England, Jan 26, 2010 (AFP) - Manchester City are in negotiations about loaning record signing Robinho to one of two Brazilian clubs, Santos or Sao Paulo, City manager Roberto Mancini confirmed on Tuesday.
Mancini also revealed that the Brazilian, signed from Real Madrid in 2008 for a British transfer record of 32.5 million pounds, is in his squad for Wednesday's League Cup semi-final second leg clash against Manchester United at Old Trafford.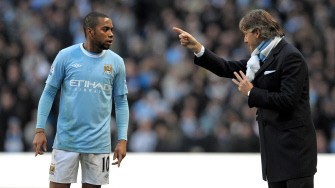 (FILES) This file picture taken on December 26, 2009 shows Manchester City's Italian manager Roberto Mancini (R) speaking to Robinho during the English Premier League football match between Manchester City and Stoke City in Manchester (AFP photo)
"It is possible that something could happen," Mancini said.
"This kind of thing does happen. I know in Italy there were instances when clubs paid a lot of money for a fantastic player but afterwards he needed to play at another club.
"Negotiations are happening but for now he is part of my squad."
Robinho has only sporadically produced anything like his best form for City and appears to have grown disillusioned with life in the north of England.
A return to his homeland could offer Robinho the opportunity to secure a place in Brazil's World Cup squad for this year's finals in South Africa.
"The World Cup in June is a big problem for him," said Mancini.
"He wants to play for the national team. I understand that but I must decide what is best for the team.
"I have five or six strikers to choose from, which makes it difficult for him and me."
In Manchester City's 2-0 Premier League defeat by Everton this month, Robinho suffered the embarrassment of being taken off by Mancini before the end of the match having only come on as a substitute.