Germany, March 4, 2010 (AFP) - Argentina's larger-than-life coach Diego Maradona thinks that his players can win the World Cup if they show the form that saw them beat fellow favourites Germany 1-0 here on Wednesday.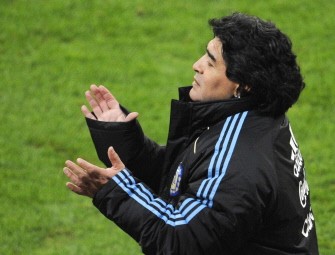 Argentina's coach Diego Maradona applauds during the friendly football match Germany vs Argentina in the southern German city of Munich on March 3, 2010. AFP photo
"I am very happy because my players were so committed. They fulfilled my expectations. After 24 years Argentina needs the title, and playing at this standard we can do it," Maradona said.
"It was a tough game, but we showed that we are a great team, one of the best in the world," he added. "God willing, we are going to give our people a good World Cup."
Ninety-nine days before the World Cup in South Africa, the clash found "El Diez" under pressure after the 1978 and 1986 winners - the latter victory over the then West Germany virtually singlehandedly delivered by Maradona - came within a whisker of not qualifying and for his use of over 100 different players.
But his side outshone Germany on Wednesday, leaving the home side, which in contrast to Argentina had looked solid in qualification, looking like the one needing to go back to the drawing board.
"Mistakes get punished at this level," said Germany trainer Joachim Loew, assistant coach when Germany beat Argentina in a penalty shootout in the 2006 World Cup quarter-finals.
"Argentina really was a very, very strong team with lots of strong individual players. We didn't manage to build up pressure today, to make use of chances."
After a slow start as the teams sized each other up, it was Argentina who looked the more dangerous of the two sides, led from the front by Barcelona star Lionel Messi, Fifa's world footballer of the year 2009.
In the 38th minute, Angel di Maria dribbled his way past a sea of German defenders to fire off a shot.
Germany 'keeper Rene Adler, fresh from being named Germany's first-choice goalie for the World Cup this week, pulled off a spectacular save, deflecting the ball onto the woodwork.
But then just before the break, disaster struck for the Germans with a slip-up from Adler, who plays for high-flying Bundesliga outfit Bayer Levekusen, that suddenly made his selection look not quite so shrewd.
Adler sprinted out of his goal to intercept the ball from a fast-approaching Gonzalo Higuain, but the Real Madrid star won the challenge, rounded the 'keeper and tapped into the open goal.
The episode was much to the disapproval of long-term 'keeper Oliver "King" Kahn, now resigned to the commentary box.
"If you leave your goal you have to make sure you get the ball. Otherwise you should stay on your line," he said.
The Germans looked in better nick in the second half, winning more possession and creating more pressure in the opponents' half, but it was to no avail as the visitors held firm.
Germany's best chances came though Cacau, who has been on sparkling form in the Bundesliga, with shots in the 77th and 83rd minutes, the second a half-volley which whistled over the crossbar.
"Our mistake was not to take more risks up front," said Germany captain Michael Ballack, sporting a black eye from Chelsea's recent Champions League defeat to Inter Milan.
Argentina is drawn against Nigeria, South Korea and Greece in the World Cup, which runs from June 11 to July 11 in South Africa. Germany will face Ghana, Serbia and Australia.