The new season kicked off on January 1, 2006 with the opening of the National Cup. One and two weeks later, the first division the premier league called V-League started. Before the tournaments, the Viet Nam Football Federation (VFF) relegated Eastern Asia-Pomina Steel Club to the first division from the league because of match fixing. Can Tho Club was demoted from the first division to the second division due to the same reason.
VFF has sought to improve skills of new referees after the police have questioned more than 15 referees for the involvement of match fixing.
Police began investigation on match fixing late August 2005 right after this year's football season came to and end.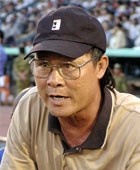 Nguyen Thanh Vinh
In the middle of October, a football coach and a referee were arrested on bribery charges. Coach Nguyen Thanh Vinh of Ho Chi Minh City-based East Asia-Pomina Steel Club was taken into police custody in town and FIFA-certified referee Truong The Toan was arrested in Ha Noi, both for their involvement in the scandal.
A few days before the arrests, VFF decided to suspend coach Vinh together with his assistants and the club's manager from their positions. The federation also suspended 14 referees for their involvements in the scandal.
In late July, the club completed the first division in third place, qualified for the premier league. Then, Vinh told his assistant coach Tran Manh Cuong to give VND130 million, or US$8,200, as bribes to some referees. The sum comprised VND40 million from Vinh's pocket and the rest from the club. In October, the police started questioning Cuong.
Referee Luong Trung Viet (R) in a V-League match in 2005
The police have also questioned Le Van Cuong, director of the Can Tho City Sports Service, about the fact that in May 2004, he handed VND10 million to some referees to influence the result of the match between his Can Tho Club and Military Zone 5. Can Tho won 1-0, enough for them to stay in the first division. He was satisfied and sent this bribe to Vu Trong Chien, one of the questioned referees, via referee Luong Trung Viet.
Viet was arrested in August 2005 on bribery charges in an organized ring. East Asia-Pomina Steel Club managing director Vu Tien Thanh was also arrested that month for the same reason.
Among referees questioned by police for bribery charges, Tu Minh Dang is alledgedly involved in another match-fixing ring starting in 2001.
These match fixing scandals have made football in Viet Nam dirty, and the Viet Nam Football Federation has sought to clean up the sport before the new season 2006.