LONDON, May 23, 2011 (AFP) - Birmingham manager Alex McLeish is scheduled to meet club owner Carson Yeung this week to plan for next season following relegation from the Premier League.
McLeish insisted he wants to carry on at the club after a bitter defeat at Tottenham, three months after they lifted the League Cup, meant they finished in the bottom three of the table.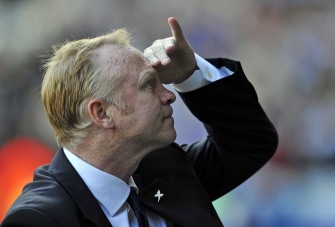 AFP - Birmingham City manager Alex McLeish looks on before the English Premier League football match between Tottenham Hotspur and Birmingham City
Yeung was in the stands at White Hart Lane but did not speak to McLeish immediately after Roman Pavlyuchenko's two goals earned a 2-1 win for Spurs.
"We'll chat during the week and see what the gameplan is for everybody," McLeish said.
Regarding his own position, the 52-year-old Scot added: "I've got a good contract and as far as I'm aware I'll be honouring that."
McLeish is determined to keep as much of the squad together as possible for their Championship campaign, which they will also juggle with the Europa League following their Wembley win in February.
Only picking up two victories since they beat Arsenal was their undoing, and they would also have been relegated with a draw against Spurs as Wolves' second goal at Blackburn meant Mick McCarthy's men edged out of the drop zone on goal difference.
"This doesn't cheapen winning the League Cup. You can never take it away from us," McLeish said.
"It's such a fine line, if the goal that put us out of the Premier League had gone the other way it would have been the greatest season in Birmingham's history.
"But if you are saying staying in the league but sacrificing the League Cup then, of course.
"It took a lot out of us. Maybe you could look at Arsenal as well in terms of their results between then and now."
Pavlyuchenko scored the opener for Spurs just after the break and added the winner in the final moments after Craig Gardner had levelled to give the visitors hope.
"It's probably the worst moment of my career because I've been in charge of the team the whole year, it's my lads, I picked them and built the squad," McLeish said.
"It's a low for me in my career but it's not fatal and I'll bounce back.
"There will be a few that will leave. But we have to build again, we have some players on long contracts and we'll see if we can hold onto them all.
"To get back in the Premier League we will need to keep the quality and maintain the quality factor."
Spurs manager Harry Redknapp was breathing a sigh of relief as his team qualified for the Europa League.
Had they finished behind Liverpool they would have entered the competition at the qualifying stage, which would have disrupted their pre-season.
"It was important to win, the one thing we didn't want was getting through on the Fair Play league," he said.
"We'd be back playing in June, and it kills your Premier League season for a start if you're looking for a push for the top four again.
Fulham were also in the running for a Fair Play place, with Redknapp adding: "Fulham suddenly got 10 bookings in two games, they were making sure!"