BARCELONA, April 7, 2010 (AFP) - Arsenal manager Arsene Wenger described the four goal performance of Lionel Messi in Barcelona's destruction of his side in their Champions League quarter-final second leg clash as like something out of a computer game.
Following the 2-2 draw at the Emirates, Nicklas Bendtner put the Gunners ahead on aggregate before a solo performance from the majestic Messi who bagged his first ever four goal haul - the sixth player in Champions League history but the first since Andrei Shevchenko five years ago - as Barca ran out 4-1 winners (6-3 on aggregate).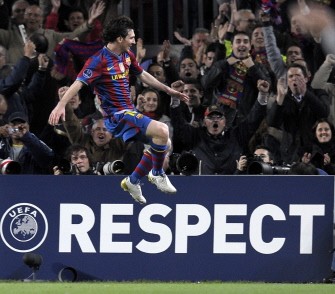 Lionel Messi celebrates after scoring the third goal during the UEFA Champions League football match between Barcelona and Arsenal at the Camp Nou stadium in Barcelona on April 6, 2010 in Barcelona. AFP PHOTO
"Congratulations to Barcelona, they deserved to win over the two legs. They are a good side but Messi makes the difference as he can win the game at any moment. He is like a Playstation player, he can take advantage of every chance," said Wenger, who felt that his side was up against the top side in Europe at the moment.
"We made too many mistakes defensively when we had possession of the ball and we paid for it. We are a young team and we can improve a lot.
"The future is very positive but we lacked maturity in the final ball tonight (Tuesday).
"After we scored our first goal we had a great chance to score again but we made a bad decision with the final ball.
"I don't know if Barcelona will win the Champions League but they will have their chances especially with players returning.
"They are the best side at the moment but it is a cup and we could have made it very difficult for them."
Arsenal can ease their disappointment now by concentrating on the fight for the Premier League title with their next match against local rivals Tottenham Hotspur.
"We now need to focus on the Premier League and we now go to White Hart Lane which is a place where we have done well before," said Wenger.
"We need to be fully focused but it will be the best thing for us to play a derby."
His Barcelona counterpart Pep Guardiola wanted to emphasise the success of the whole club rather than singling out individuals.
"It is congratulations for the institution as we have now reached the semi-finals in the last three years," said the 39-year-old former Barcelona playmaker, who won the Champions League as a player in 1992.
"This was a game with two good teams but we had more possession in the first half and that made the difference.
"We are extremely pleased at being in the semi-finals and having achieved this without compromising our style. We press hard and work together even after 70 or 80 minutes and this is decisive.
"Leo (Messi) deserves all the praise he has been given and he is the perfect role model for young players although it would be impossible for them to copy him of course.
"To describe him as someone from Playstation is a great description but I don't know what level he would be on.
"This was a team performance though and we all play with the same mentality of attacking. Even Victor (Valdes) can do this by throwing the ball out."
He is now expecting a tough semi-final tie with Inter Milan, who they played in the group stage and had earlier reached the last four by beating Russian side CSKA Moscow 1-0 in Moscow, 2-0 on aggregate.
"They are not the team I would have wanted to face and the fact they have won several leagues in Italy shows how strong they are," said Guardiola.
"Jose Mourinho is the one of the best if not the best coaches around as he has won leagues in Portugal, England and Italy. I am proud to play against him," he added.