SEOUL, Aug 2, 2010 (AFP) - Argentinian star Lionel Messi promised Monday to deliver a good performance this week when his club, Barcelona, meet South Korea's all-star team in an exhibition match.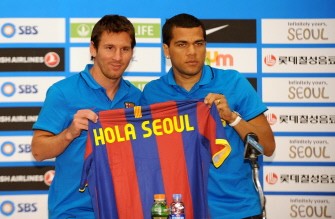 Spain's Primera Liga champion FC Barcelona's Argentinian player Lionel Messi (L) and Brazilian Daniel Alves (R) hold a Barcelona jersey during a press conference in Seoul on August 2, 2010. AFP
The match between the Spanish champions and an all-star squad selected by South Korean fans will be played Wednesday in Seoul to mark the 60th anniversary of diplomatic ties between South Korea and Spain.
"We will show a good play as many Korean fans have waited for us," Messi told reporters.
Messi had a disappointing World Cup in South Africa, with Argentina knocked out of the tournament by Germany in the quarter-finals.
"It was too bad I could not score a goal even with many chances during the World Cup, but I will try my best to score this time," he said.
"I had high expectations and I wanted to get to higher rounds but it was too bad. Now I'd like to only think about the league."
Messi said the match in Seoul would be "a good opportunity to prepare for a new season".
His teammate Daniel Alves Da Silva said South Korean fans would enjoy watching "the games of the best club in the world".
"I've recovered much after the World Cup since it ended sooner than I thought," he added.