EAST RUTHERFORD, New Jersey, March 26, 2011 (AFP) - Lionel Messi dazzled, and Argentina dominated, but the United States still eked out a 1-1 draw Saturday in a friendly international football match.
Teenager Juan Agudelo scored in the 59th minute to give the spirited hosts the surprising draw.
Esteban Cambiasso put Argentina ahead in the 42nd minute after Messi made a scintillating run and passed through the legs of US captain Carlos Bocanegra.
US goalkeeper Tim Howard stopped Angel Di Maria's initial shot, but Cambiasso fired home the rebound.
"It was pretty unbelievable," Bocanegra said. "This guy (Messi) - I mean, my legs weren't that far open, and he just pops through. And I'm going, 'Really?'"
Bocanegra wasn't the only US player who couldn't help admiring Messi even as he tried to stop him.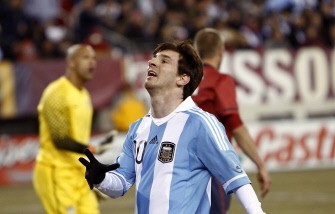 Lionel Messi of Argentina reacts after a failed scoring attempt during the first half of the friendly match. AFP
"You watch him on TV and you think, it's impossible. How does he do that?" Howard said. "And then you see that he's here for real and it's just breathtaking, even as a top-level professional, as we are.
"It's breathtaking because you can't figure out how he's doing some of these things."
The match was played before 79,800 spectators at New Meadowlands Stadium, home of the NFL's New York Giants and New York Jets.
After Argentina's dominance of the first half, US fans were energized by manager Bob Bradley's switch to a more attacking style.
Agudelo, 18, came on for the second half and scored his second goal in three international appearances.
It followed a swinging corner kick by Landon Donovan and a initial header attempt by Bocanegra that was saved by Argentine goalkeeper Mariano Andujar.
Most of the night, however, belonged to Argentina and Messi -- Barcelona's two-time world footballer of the year.
Wearing gloves and a long-sleeved shirt under his jersey on the cold New Jersey night, Messi zigzagged around US defenders as if they were standing still, and threatened almost every time he touched the ball.
US midfielder Jermaine Jones tried to stay with him in midfield, and Oguchi Onyewu knocked the Argentinian star down with a clumsy elbow to the head while going up for a header in the 24th minute.
After he received treatment and got to his feet, fans chanted "Mess-iiii! Mess-iiii!"
In the 40th minute, Messi stripped Clint Dempsey of the ball near midfield and raced toward the goal.
He eluded Michael Bradley, moved to the center and fired from inside the penalty area with Howard rising to make the save.
Just two minutes later, Messi got around Jonathan Spector and ran to the touchline. He played the ball through to Di Maria and although Di Maria's shot was saved by Howard, none of the US players apparently took note of Cambiasso, and the Inter midfielder blasted home the rebound.
Argentina didn't let up in the second half, Real Madrid's Di Maria engineering the first chance but sending his left-foot shot over.
Soon after Messi chipped from the top of the six-yard box, only to have Howard deflect the threat.
Even though Argentina couldn't get the win, Messi was pleased with the team's performance.
"Everyone in the team is aware that we did have a fantastic first half," he said. "There was a letdown in the second half, and they scored with the one chance they had ... They almost didn't have the ball the whole match."
Messi said the players have embraced the passing game preached by coach Sergio Batista, who replaced Diego Maradona after the World Cup.
"We are improving every single match we play. We have embraced Checho's philosophy," Messi said. "We are all very happy with our play, how we controlled the ball, which is our idea. We have to continue on that direction."
The match was part of Argentina's preparations for the Copa America in July, while the United States are getting ready for the CONCACAF Gold Cup in June.
Argentina now travel to Costa Rica for a friendly on Tuesday, when the United States will be hosting Paraguay in Nashville, Tennessee.