MIAMI, Aug 3, 2011 (AFP) - Marco Fabian scored twice in two minutes to lift Mexican club Chivas of Guadalajara to a stunning 4-1 victory over Spanish giants Barcelona in their friendly on Wednesday.
The European champions led at half-time through David Villa's third-minute strike but Chivas hit back with a burst of three goals in 12 minutes in the second half.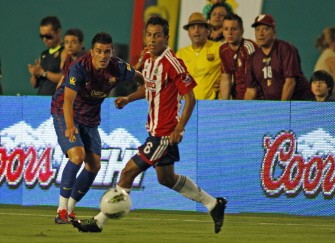 AFP - Barcelona's David Villa (L) fights for the ball during their match against Chivas Guadalajara
Barcelona's visit drew 70,080 to Sun Life Stadium, home of the NFL's Miami Dolphins -- a record for a football match in South Florida.
Fabian equalized in the 60th minute with a drive from 30 yards before Omar Arello's cross from the right two minutes later found Fabian free and he buried a flying scissor-kick.
"I like to practice that shot," Fabian said. "Thank God, it went in and hopefully it will be the first of many to come."
The 20-year-old forward, in his fifth season with Chivas, admitted it was a thrill to score two goals against a side of Barcelona's stature.
"This is a dream come true, to score not one but two goals against a great team like Barcelona," he said. "Life goes on, but this is something I will cherish."
Giovani Casillas added a third in the 72nd before Jose Luis Verduzco completed the scoring in the 90th minute.
"Our team was able to capitalize on its opportunities," Chivas coach Jose Luis Real said. "Even in the first half, we had our chances. I was very proud how we kept our composure when the shots didn't go in."
Barcelona -- who are without two-time FIFA Player of the Year Lionel Messi as well as Daniel Alves, Javier Mascherano and Alexis Sanchez for their US tour -- fell to Manchester United 2-1 in a friendly last Saturday.
The match was a reprise of their clash in the UEFA Champions League final in May, which Barcelona won 3-1.
On Saturday the Spanish outfit play another friendly in Dallas, against Mexican club America.
"The result tells us we need to work hard on a few things," said Barcelona coach Pep Guardiola.
"I am not surprised by Chivas' performance. Mexican football is very dynamic and entertaining."