MOSCOW, April 5, 2010 (AFP) - Having questioned CSKA Moscow's right to be at this stage of the Champions League ahead of their first leg, Inter Milan coach Jose Mourinho on Monday accused the Russians of being sly in having the weekend off ahead of the return here.
Inter lead 1-0 from last week's first leg in Milan, a slender advantage they will be looking to defend on Tuesday night at the Luzhniki Stadium.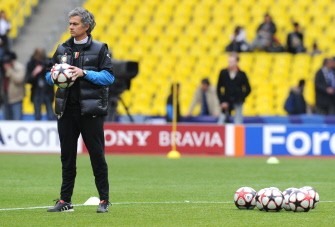 Jose Mourinho holds a ball during their official training session on the eve of their second leg Quarter final match against CSKA in Moscow on April 5, 2010. AFP PHOTO
But having reminded everyone that two of the Moscow players had failed drugs tests in December - they were suspended for one match after a technical error by club doctors - Mourinho this time questioned his hosts' scheduling arrangements.
While Inter beat Bologna 3-0 on Saturday, CSKA, the first Russian outfit to reach the quarters, had the weekend off as their match against Zenit St Petersburg was postponed for security reasons following the double Moscow suicide bombings last week.
But that excuse did not wash with Mourinho, who recalled how AC Milan pulled a similar trick on Inter ahead of their city derby in January.
"CSKA have already done something to win tomorrow (Tuesday). They didn't play Saturday," he said.
"They used a slightly sad excuse but they did it well. Of course they could just have told the truth.
"A few months ago I congratulated (Milan chief executive Adriano) Galliani, who did something we call an intelligent game.
"CSKA have done the same thing, they've done very well but they could just tell the truth."
Mourinho added tongue in cheek: "Would I coach in Russia? Only for CSKA because they have the ability to reschedule matches as they want."
He also complained about CSKA's synthetic pitch, even though a week ago he had said it would make no difference.
"With the synthetic pitch we have all the disadvantages. If the Champions League began with 31 teams who play on natural grass and one who plays on a synthetic pitch, have the 31 teams made a mistake or instead is it CSKA?
"The match would have been much more attractive on a natural grass pitch."
Inter suffered a scare in their first training session on Monday as Dutch playmaker Wesley Sneijder limped off following a challenge with Muntari Sulley, raising fears about his ability to play on Tuesday.
But Mourinho believes he will be fit.
"If he didn't finish the training session it means he's not well but I expect he'll be able to play. I'm feeling positive, I think he'll play," said the former Chelsea boss.
Mourinho believes the Russians are still in with an even chance so Inter will be on their guard.
"They definitely still have chances. In Italy they lost with just one goal difference. We have a choice. Either play defensive style football trying to keep our net clean or to play aggressive football seeking a win."
CSKA counterpart Leonid Slutsky said his men would go for the jugular.
"We have no other choice but to score," Slutsky told reporters.
"However, we should keep in mind that we should not allow Inter to score any more goals. That means we should keep a very correct balance between our attack and defence."