MILAN, Italy, Nov 4, 2010 (AFP) - Real Madrid coach Jose Mourinho said his team would learn from the mistakes they made as they needed an injury time equaliser from Pedro Leon to salvage a 2-2 draw at AC Milan.
The point was enough for Real to qualify for the Champions League knock-out stages and they need only one more point from their final two games to win Group G.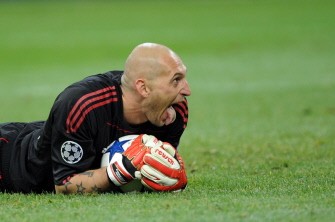 AC Milan's goalkeeper Chistian Abbiati reacts after saving a ball from Real Madrid during their Champions League group G football match on November 3, 2010 at San Siro Stadium in Milan. AFP
But a brace from substitute Filippo Inzaghi saw them come within seconds of losing a match they had dominated.
Gonzalo Higuain had given them a first half lead but Inzaghi came off the bench to score his 69th and 70th European goals, taking him past Gerd Mueller's record, to take the Italians to within a sniff of victory.
Instead Mourinho maintained his unbeaten start to life in Madrid.
"I think my team needs to learn, they need to learn how to play in the Champions League," he said.
"The important thing is to learn to play at this level. If we had played as we should have done in the second half, we could have been 2-0 or 3-0 up but instead we could have lost.
"So it was a great experience in terms of helping us to learn."
And Mourinho expressed his delight with his team's never-say-die spirit to ensure they avoided a first defeat of the season.
"It was an important moment for Pedro but more so for the team because we've not lost, we've already qualified for the second round and we need just one point to win the group.
"The most important thing was that the team had the mentality to play with the risk their coach asked of them at the end with many forwards."
In a game they had controlled for 68 minutes until Inzaghi first struck, Real looked set to lose but typically Mourinho threw caution to the wind at the end, bringing on forward Karim Benzema and winger Leon while removing centre-back Pepe.
That left just Ricardo Carvalho and Sergio Ramos back as the rest pushed forward for the equaliser.
Mourinho also paid tribute to Benzema, who has oft been criticised since joining the Spaniards last season.
"Karim is changing, he's feeling better, he's happy, he has a good dynamic, I'm very happy with him," said the Portuguese boss.
"But I'm also very happy with Higuain, it's a difficult situation having both who are very good.
"But if Benzema keeps going in this way, from a psychological point of view his coach will have to thank him, and thanking him is not telling him 'well played', it's playing him."
Milan coach Massimiliano Allegri couldn't hide his disappointment at having given up the chance of victory so close to the final whistle.
"The first half was difficult for us and also in the second when they had a lot of possession, although without creating much," he said.
"But we didn't get disorganised, we waited for the right moment and under normal circumstances, just a few seconds from the end, the game was won. But this happens in football," he said.
"I'm disappointed that we lost the three points 20 seconds from the end."
And Allegri paid tribute to veteran striker Inzaghi whose entry changed the game.
"Inzaghi is an important player most of all because even at 37 years old he's always shown enthusiasm and is an example for others," he said.
"When he came on he got the crowd going, it was a difficult period for us but we passed that test in the best way."