MADRID, Nov 19, 2010 (AFP) - Spain's state commission against violence in sport has recommended that Real Madrid coach Jose Mourinho and his Sporting Gijon counterpart Manuel Preciado be punished over their verbal spat last week.
The comments made by the two coaches ahead of Real Madrid's 1-0 win over Sporting Gijon on Sunday "could have contributed to the creation of a hostile climate", it said in a statement, adding it had asked Spain's football federation to take "appropriate disciplinary action" against the pair.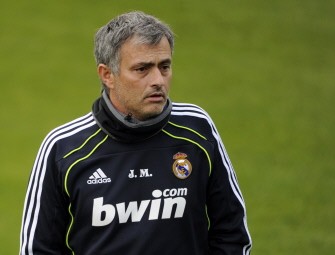 Real Madrid's Portuguese coach Jose Mourinho takes part in a training session at Real Madrid's sport city on 19 November, 2010 in Madrid. AFP
"The commission also believes that it is necessary to prevent this kind of situation happening again," Friday's statement added.
Mourinho angered Preciado ahead of the match by suggesting that Sporting Gijon did not make a serious attempt to beat champions Barcelona earlier in the season since it did not field all its top players.
Preciado hit back by saying that if the Portuguese coach was saying what he really thinks "he is despicable and a bad professional colleague".
Mourinho had to watch the match against Gijon from the stands as he was serving a two match ban for verbally abusing a referee during a King's Cup match.
Real director general Jorge Valdano said he was "surprised" by the commission's decision to recommend Mourinho be punished.
"Mourinho should't stop being Mourinho. He was hired for his personality and he can express his feelings whenever he wants as long as he doesn't overstep his mark," he said in comments published on the club's website.
Sporting Gijon said in a separate statement that it regretted the disgreement between the two coaches and considers the matter closed.
Real are top of the league with 29 points, one point ahead of arch-rivals Barcelona, after their away win over Sporting Gijon.