MADRID, March 17, 2011 (AFP) - Real Madrid coach Jose Mourinho said he would prefer not to face old clubs Chelsea and Inter Milan in the quarter-finals of the Champions League after watching his side qualify with a 3-0 home win over Lyon at the Santiago Bernabeu on Wednesday.
Goals from Brazilian left back Marcelo, French forward Karim Benzema and Argentine winger Angel di Maria clinched a 4-1 aggregate win as Real reached the last eight for the first time since 2004.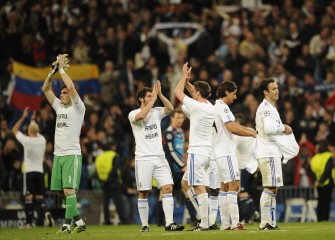 Real Madrid's players celebrate at the end of the match Real Madrid vs Olympique Lyonnais. AFP
Mourinho's former clubs Chelsea and Inter Milan, who he won the trophy with last season, are both in the draw and the Portuguese manager admitted he would prefer to play a team he didn't have an emotional connection to.
"I wouldn't like to play against Inter (Milan) or Chelsea due to the emotional factor," said Mourinho. "If I have to go up against my old people then I will do, but it will force me to prepare more pyschologically than against another side that aren't in my heart. I had to do it last season against Chelsea.
"Now we will wait for the draw. There are a lot of great teams in the next phase so it will be difficult."
Real had lost at the last 16 stage for six successive seasons but Mourinho helped break that jinx and is now hoping to guide Real to a 10th European Cup and first since 2002.
"The bad run had to end sometime and it did tonight," said Mourinho. "Lyon are a good team but we deserved to win the tie. We produced a complete display and we are through to the last eight.
"We went out to win the game and we won both legs of the tie. We knew we weren't going to defend here and even at 1-0 we continued to attack. We controlled the match from the beginning.
"We are among the final eight teams and have ambitions to do well. We don't want to start thinking about who we want to get. Let's wait for the draw."
Marcelo, who broke the deadlock on 36 minutes with a fine individual goal, said Real fans deserved the win after recent woes in the competition.
"We did what the manager wanted and went out to win the game," said Marcelo. "This victory gives us a lot of confidence and we owed it to the Madrid fans (after the past disappointments).
"We are not thinking about who we could get in the next round. We will wait for the draw and then prepare for the match.
"We are always trying to win the Champions League for the 10th time but there are a lot of games left to go."
For Mourinho there is a personal ambition to become the first manager to win the trophy with three different clubs having won it with FC Porto in 2004 and Inter Milan last season.
"If I don't win it I will continue being in Champions League history, but I want to win it for the third time," added Mourinho.
"A tenth European Cup will come as a result of hard work and organisation, not by obsessing about it."