MADRID, April 15, 2011 (AFP) - Real Madrid coach Jose Mourinho turned up at a press conference Friday on the eve of his side's league clash against arch-rivals Barcelona but refused to speak, leaving it up to assistant coach Aitor Karanka to field reporters' questions.
"Jose Mourinho will not answer any question," a club spokesman said at the start of the news conference, causing many journalists to abandon Real's press centre in protest.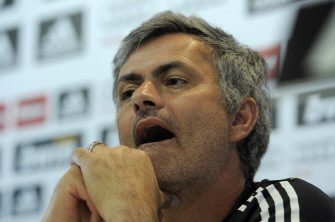 AFP -Jose Mourinho attends a press conference after a training session at Real Madrid sport city on April 15, 2011 in Madrid
Karanka, 37, was left to justify the Portuguese coach's decision to remain mute.
"Every time he speaks, everything he says gets magnified, he does not want his words to be magnified," he said as a stony-faced Mourinho sat beside him and faced the journalists who stayed at the press conference.
Karanka rejected suggestions that Mourinho's refusal to talk was disrespectful of Real fans or would soil the club's image.
"What the fans want is for Real Madrid to be where it is today, they want a coach who works hard every day, who demonstrates that he is 100 percent with the club, independent of whether or not he speaks," he said.
Mourinho, 48, was slammed for disrespecting the media after he failed to show up to a post-match press conference as scheduled after Real beat Athletic Bilbao 3-0 on April 9.
He was replaced by Karanka at the press conference.
Real will face Barcelona at home on Saturday in the league ahead of three more 'Clasicos' in less than three weeks, in the Spanish Cup final and the Champions League.
Champions Barcelona hold a commanding eight point lead over Real in the league with seven games left and victory over their foes would virtually seal the league title, while a draw would still leave Madrid with a mountain to climb.
Mourinho watched Sporting Gijon win 1-0 at the Bernabeu in their last home league outing to end his nine year 150 match unbeaten home league record and the Portuguese hopes to fare better than in his first Clasico when Barcelona thrashed his side 5-0 at Camp Nou.
It was the heaviest defeat of Mourinho's glittering career and both he and his wounded players will be out for revenge for that humiliation.