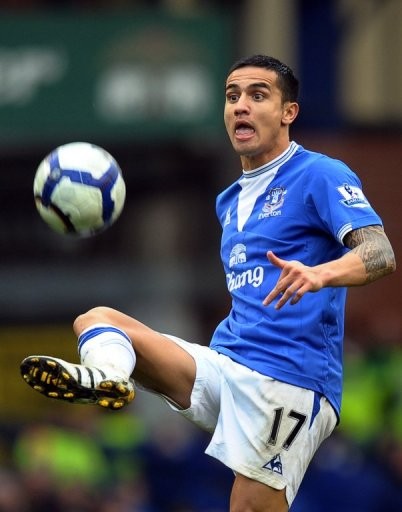 Tim Cahill (AFP photo)
BLACKBURN, England, April 18, 2010 (AFP) - Australia's Tim Cahill may have scored Everton's last minute winner in their 3-2 win away to Blackburn Rovers but manager David Moyes lavished praise on Mikel Arteta after a victory that reignited his side's bid for European football.
Spanish midfielder Arteta marked his return after three games out with injury by scoring the first goal of a see-saw Premier League contest which also saw Everton net through Nigeria striker Ayegbeni Yakubu only for Rovers to equalise twice courtesy of Jason Roberts and Steven Nzonzi.
Victory left the Merseysiders in eighth place and still in with a chance of qualifying for next season's Europa League.
Moyes described his side's first 20 minutes as "scintillating" but admitted Arteta was lucky to stay on the pitch after poking Morten Gamst Pedersen in the cheek and eye.
The incident occurred when the duo squared off after the Blackburn midfielder had tackled Arteta to concede a free-kick in the 20th minute.
Arteta could consider himself fortunate to be shown a yellow card, not a red, by referee Andre Marriner, who also booked Pedersen.
"I've had a word with Mikel," Moyes said. "He's not that type of boy.
"He's coming back from injury, he's had quite a bad tackle just before that and then he had that one as well," the Scottish boss explained.
"I've had a word with him and said 'You can't do that."
But after three games out with a groin injury, all of which Everton drew, Arteta made an instant impact on his return, ending Rovers' three-match run of clean sheets in just the fourth minute.
"I thought he was on a different planet today," Moyes said. "I thought he was magnificent."
Bolton manager Sam Allardyce was unhappy Arteta stayed on the pitch, but was more frustrated by his side's defensive lapses.
"By the letter of the law, it's a red card isn't it?," Allardyce said. "But in the end it wasn't given.
"My disappointment is not so much with that decision but that two wonderful goals got wasted."
Blackburn thought they had secured a point when Roberts volleyed home in the 81st minute to make it 2-2.
Roberts's goal came just three minutes after Yakubu made it 2-1 for Everton.
Yakubu had come on for defender Tony Hibbert in the 78th minute and seconds later, collected a header from fellow substitute Victor Anichebe to head past Paul Robinson.
Blackburn levelled for 1-1 in the 69th minute through Nzonzi, who scored only his second goal of the season with a spectacular long-range curling shot.
Arteta opened the scoring from the spot after he was tripped in the box in the fourth minute by Blackburn captain and New Zealand star Ryan Nelsen.
He picked himself up to score his fifth goal in as many games: this was his first match since scoring in the 2-0 win over Manchester City on April 24.
Allardyce has made quite an impact in his first full season since steering Blackburn away from relegation last season.
They came into this match on a five-game streak without defeat and are still aiming for a top 10 finish, having already won two more points than they achieved last term.
"For us to be so sloppy defensively was so much unlike us," a frustrated Allardyce said. "That's normally our solid platform to build a result on. Today it's let us down.
"Lo and behold we score two of our best goals of the season and they're wasted. When you get those sort of goals, you've got to make sure you take something out of the game."