Two hundred international athletes and foreign residents are expected to take part in Triathlon 2008, organized by Viet Adventure Company and scheduled to take place in Mui Ne - Phan Thiet on June 1.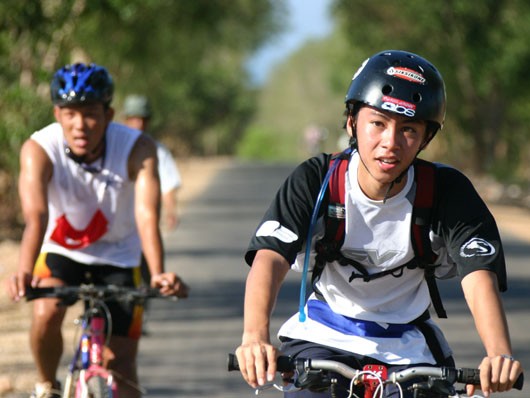 Previous triathlon participants compete each other on mountain bike riding (Photo: Courtesy of Viet Adventure Company)
There will be both a short and a long triathlon. For the long triathlon, participants will swim 500m in the sea and then ride mountain bikes to sand dunes, traveling 40km before reaching the final challenge, an 8km run on a wet, steep and narrow white beach.
Participants will depart from Jibe's Beach Club. 
The most amazing part of this year's competition will be the participants, some as young as 12 years old, racing with their parents.
In the first triathlon in 2001, only ten athletes took part in the competition. Last year, however, it attracted 110 athletes from 14 nations.
The entry fee of US$30 includes the cost of transporting of a bike from Ho Chi Minh City and back.
Part of the proceeds of the Le Fruit Triathlon will be donated to the Myanmar Cyclone Relief Fund to help the people affected by the disaster, according to an announcement by the organizers.
The competition is combined with tourism so participants can stay at anything from a five star resort to a backpacker mini-hotel.