MUNICH, Germany, April 7, 2011 (AFP) - Stars Mario Gomez and Franck Ribery on Thursday both pledged their futures to Bayern Munich on Thursday and spoke out in support of the club's under-fire president Uli Hoeness.
French winger Ribery has a contract until 2015, while Germany striker Gomez, the Bundesliga's joint top-scorer with 19 goals in 26 games, is contracted until 2013, but both insist they are not going anywhere.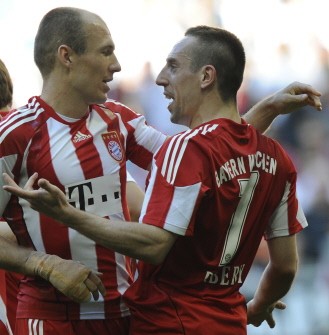 AFP - Franck Ribery (R) and Bayern Munich's Dutch midfielder Arjen Robben celebrate scoring during the German Bundesliga match FC Bayern Munich vs Borussia Moenchengladbach in the southern German city of Munich on April 2, 2011.
"I'm staying at Bayern, I feel good here, I will not be going away," Ribery told Munich newspaper TZ.
And Gomez, who has scored 30 goals in all competitions for Bayern this season, said he plans on staying in Bavaria for the foreseeable future.
"It's not as though I intend to leave the club even after my contract expires," he said.
With Bayern needing to finish second in the Bundesliga to be guaranteed a Champions League place next season, Dutch winger Arjen Robben has hinted he may leave after saying he has no desire to play Europa League football next season.
Gomez and Ribery have also leapt to the defence of president Hoeness who has been criticised by Bayern fans for giving financial help to local second-division rivals 1860 Munich, who recently faced bankruptcy.
Banners branding Hoeness a 'liar' were seen at Munich's Allianz Arena ground during last Saturday's 1-0 win over Moenchengladbach.
Fans have already protested against Hoeness this season with the club strongly rumoured to be set to sign Germany goalkeeper Manuel Neuer from rivals Schalke 04 once the season finishes.
"Hoeness is a great man and I know how hurt he was by the insults," said Ribery.
"I can't understand it, it's not good."
Hoeness has spent more than 40 years at Bayern Munich as both a player and general manager.
"He has made the club great and he lives for Bayern, it's a shame that something like this has happened," said Gomez.
Hoeness admitted Thursday he was shocked to be targeted by Bayern's hardcore fans.
"Because of my support for 1860 and, because I heavily defended Manuel Neuer after our game in Munich, I was expecting a reaction from certain people," said Hoeness.
"But it came in a form I would have never thought possible, I was shocked by what I saw last Saturday."