Andy Murray has hinted that he might make himself unavailable for Great Britain's Davis Cup play-off against Croatia in September.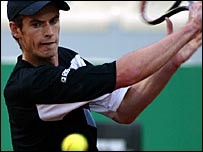 Murray is still looking for his first win on clay this year
The Scot, 20 on Tuesday, believes constantly switching surfaces has contributed to recent injuries.
He said: "I might have to consider my Davis Cup commitments. You have to think about the Tour first."
Murray faces in-form Italian Filippo Volandri in the first round of the Hamburg Masters on Tuesday.
Murray, who is second on court number one, will be keen to kick-start his clay-court season after injuries and an early loss in Rome last Monday.
A back problem led to his withdrawal from the Monte Carlo Masters last month and Murray believes the Davis Cup tie against the Netherlands was to blame.
The match required a change of surface from hard court to indoors immediately before turning to clay.
"It's just the way the schedule is and why Roger Federer and Rafael Nadal miss the Davis Cup, because it's a different surface pretty much every week," Murray added.
"I want to get ready for these tournaments. You just have to decide what the most important thing is to do and what your priorities are.
"It's a huge match for us and I'd love to try and get Britain back into the World Group and I love playing Davis Cup.
"I really enjoyed the last tie. It was a great atmosphere, but it's hard to say what I'll do."
John Lloyd, Britain's Davis Cup captain, said: "Andy is basing his career a lot on Roger Federer and the trend is there.
"I am sure he will play against Croatia but he has to plan a 10-year career and I don't have a problem with that.
"I think it is not bad for the top 10 players to voice their opinions. They [the International Tennis Federation] must start looking at other ways of doing Davis Cup and not put their heads in the sand."
Murray faces a tough foe in Volandri, who enjoyed one of the best weeks of his career in Rome, beating Federer on his way to the semis.
Meanwhile, British number two Tim Henman, who came out of Davis Cup retirement to play in the win over the Netherlands, has decided to skip Hamburg and continue his preparations for the French Open in London.
"The conditions in Hamburg can be so different to those in Paris that it doesn't necessarily help," Henman told his website.
"It can be so cold and damp there that the courts play really slowly."
World number one Federer, who has a bye in round one, will be playing for the first time since splitting from his coach Tony Roche on Saturday.
The Swiss star has been suffering from a slump in form and is desperate to get his game together ahead of the French Open, which begins on 27 May.
"I don't know what's gone wrong," said Federer. "I have to analyse it myself."