MELBOURNE, Jan 26, 2010 (AFP) - Andy Murray stayed on track for his first Australian Open final when defending champion Rafael Nadal pulled out injured on Tuesday, as Justine Henin's dream run gathered pace.
The fifth seeded Scot became the first Briton since John Lloyd in 1977 to make the semi-finals in Melbourne after Nadal retired with right knee pain when trailing 6-3, 7-6 (7/2), 3-0.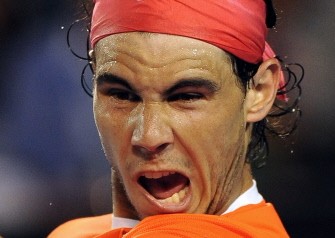 Nadal eyes a return against Andy Murray of Britain in their men's singles quarter-final match on day nine of the Australian Open tennis tournament in Melbourne on January 26, 2010. AFP PHOTO
Murray had looked the goods during the match, pumping down 13 aces and moving around the court effortlessly as he set up a showdown with surprise package Marin Cilic.
The big-serving Croatian made his first Grand Slam semi by outlasting seventh seed Andy Roddick in an epic five-setter, 7-6 (7/4), 6-3, 3-6, 2-6, 6-3, as the American once again failed to live up to expectations.
Murray, who carries an enormous burden in attempting to break Britain's Grand Slam drought in men's tennis stretching back to Fred Perry's 1936 US Open triumph, said he felt sorry for Spain's Nadal, the second seed.
"He's my favourite player to watch just because of what he brings to the court with his energy and I'm gutted for him," he said.
"I came through a few tough moments at the start of the match trying to do a little bit too much and I had to keep going with my shots and play the right tactics to win it."
Nadal said the knee starting hurting at the end of the second set and feared it was the same tendinitis that hindered him last year.
"It was in the end of the second set. It felt similar to what I had last year," he said.
"After that I couldn't get down properly, so it was impossible to win the match. I said sorry to Andy for that."
Fourteenth seeded Cilic once again proved his staying power, but he admitted it was tough going.
"It wasn't easy. In the last set I was just trying to hold my serve, and he was putting a lot of pressure on," said Cilic, the first Croat to reach the last four in Melbourne.
"I won the first game easily and that helped, and then when I broke him it got a bit easier.
"I can go one more five-setter, why not?"
It was marathon man Cilic's third five-set match of the tournament.
Roger Federer plays Nikolay Davydenko and Novak Djokovic faces Jo-Wilfried Tsonga in the other quarter-finals on Wednesday.
Henin powered into the last four by using her vast experience to down determined Russian 19th seed Nadia Petrova 7-6 (7/3), 7-5.
The 27-year-old Belgian decided to return to tennis after seeing fellow Belgian Kim Clijsters win the US Open last year, and she has more than justified the faith of organisers here who handed her a wildcard.
She now faces the dangerous but unseeded Chinese Zheng Jie, who destroyed unseeded Russian Maria Kirilenko 6-1, 6-3.
Henin said she was now daring to dream.
"I'm here again in the last four. It's just much more than what I could expect and the dream continues," said Henin, who called it quits in May 2008 after losing her enthusiasm.
"But there's still a long way to go. I'll just try to be focused on what I have to do on the court and hope it keeps going this way.
"I'll have good recovery and two good nights (rest). That's what I need."
Zheng is in her first Australian semi-final, matching her run at Wimbledon 2008, and with Li Na also still in the tournament, Chinese tennis is on a high.
Li plays sixth seed Venus Williams in the other quarter-final on Wednesday, while defending champion Serena Williams takes on seventh seed Victoria Azarenka of Belarus.
"Henin for me is such a good player, she is so strong mentally," said Zheng, who was far too good for Kirilenko, who played with her left thigh heavily strapped and was clearly struggling in the heat.
"I just want to go out there and enjoy the match and play well."
By reaching the semis, the 26-year-old from Chengdu will return to the top 20 for the first time since last June.