Despite of a win by Vietnamese women footballers Monday, Vietnamese men lost to Myanmar yesterday, dispelling the nation's hopes for a gold in football at the 24th SEA Games.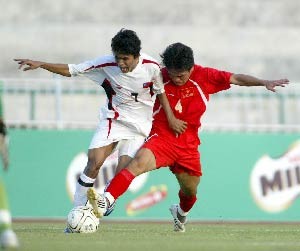 Vietnamese player Nhat Tan (L) tries to block the pass of Burmese Yazzar Win Thein
In the 4th minute, center-back Tan Tai delivered a pass to the penalty area of Myanmar. But striker Thanh Binh missed the pass when blocked by two Burmese defenders.
Ten minutes later, Thanh Binh attacked again but was again blocked by Burmese goalkeeper Kyaw Zin Htet.
The 68th minute Vietnam Captain Cong Vinh try to break through the Burmese defense. But his close strike bounced off the rivals' goalpost.
Twenty minutes later, due to a mistake by goalkeeper To Vinh Loi, Burmese players received a penalty kick. But they could not turn it into a score.
Regular time ended in 0-0 draw and the game went into overtime.
Viet Nam's Coach Alfred Riedl chose to switch from a 4-4-2 to a 4-2-3-1 line-up to strengthen the defense, but the change couldn't help Viet Nam score.
As Myanmar couldn't score either, penalty shootouts ruled.
Vinh scored once but a Burmese player added three points for his team and the game ended in a 1-3 loss for Viet Nam.
Viet Nam will meet Singapore again on December 14th to compete for the bronze medal.
Related articles:

Viet Women Footballers Beat Myanmar at SEA Games Semifinal.
Viet Nam Takes Lead in Group-B
Viet Nam Loses Top Spot to Singapore in Group B
Viet Nam Gains a 3-1 Victory over Malaysia