MADRID, Jan 28, 2010 (AFP) - Rafael Nadal's coach expects to find out Thursday the extent of injury that forced the world number two out of the Australian Open, but admits that he's concerned.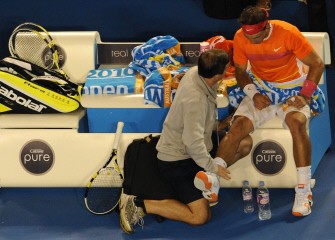 Spanish tennis player Rafael Nadal (R) is treated by an official during his men's singles quarter-final match against British opponent Andy Murray on day nine at the Australian Open tennis tournament in Melbourne on January 26, 2010. AFP photo
"There's always a concern, that's normal. It's logical to be concerned unless you're a fool," said Toni Nadal, who is also the player's uncle, hours before returning to Spain.
"We don't know the extent of the injury," the Spanish media quoted him as saying.
The mercurial Spaniard limped out of his engrossing Australian Open quarter-final on Tuesday with rising British star Andy Murray early in the third set, trailing by two sets, with a recurrence of a knee injury that blighted his 2009 season.
"Something was happening and he was right to retire," said Toni Nadal. "Now we're waiting to hear what the (Spanish tennis federation) doctor Ruiz Cotorro tells us.
"But the doctor here (in Melbourne) told me it was not a serious problem ... and now must wait," he said.
Nadal is to undergo an MRI scan in Barcelona Thursday to determine the full extent of the injury, the daily El Pais said.
He is next scheduled to play in the ABN Amro tournament that begins in Rotterdam on February 8 and then join the Spain squad for its Davis Cup match against Switzerland between March 5-7.
But Spanish media said his main goal was now to get in shape for the Indian Wells tournament, which starts on March 11.
Nadal was forced to withdraw from last year's Wimbledon where he was defending champion with tendinitis in both knees after his 31-match winning streak at the French Open was ended by Swede Robin Soderling in the fourth round.
He was also sidelined for nine weeks and after resuming, suffered an abdominal injury and played with it at the US Open where he reached the semi-finals.
Now for the fourth Grand Slam running injuries have impacted on Nadal and the doubts start all over again.