BARCELONA, Spain, April 23, 2011 (AFP) - Five-time champion Rafael Nadal recorded his 500th career win on Saturday to reach the Barcelona Open final where he will meet fellow Spaniard David Ferrer.
Nadal managed a 6-3, 6-2 victory over 56th-ranked Croatian Ivan Dodig, which saw the 24-year-old become the second-youngest player ever to reach the 500-win milestone after Bjorn Borg, who was 23 years, 7 months.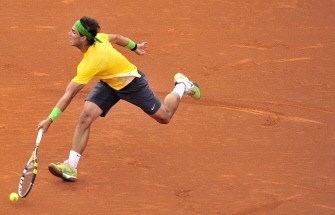 AFP - Nadal returns the ball to Croatia's Ivan Dodig on April 23, 2011 in Barcelona.
"I've had many victories. I'm still young, but I've been around a few years," said Nadal.
"My career has turned out better than I've ever dreamed possible. I'm grateful for my life and those who have helped me. I'm enjoying it because you never know when it all might end."
The world number one will play for his sixth title in seven editions at the Real Club de Tenis against Ferrer, who shrugged off a calf injury worry to reach his second straight claycourt final by defeating Spanish compatriot Nicolas Almagro 6-3, 6-4.
"Today I played worse than yesterday, but despite of that I won and that's very positive," said Nadal. "But Ivan had a great tournament, a start of a spectacular season."
Nadal beat Ferrer a week ago for an historic seventh straight trophy at Monte Carlo with Ferrer having won just four matches from 16 in their series. Nadal enters his title bid with wins in 74 of his 76 sets on clay with a Barcelona win-loss record of 29-1.
The top seed lost breaks early in each of the sets against Dodig and had to fight through for his 33rd consecutive win on clay dating to a fourth-round loss to Robin Soderling at Roland Garros in 2009.
In the first set, the top seed ended up breaking the Croatian three times to take it in 39 minutes.
But the second set was equally tough for the Spanish crowd favourite, with Nadal forced to break back for 3-1 after losing serve in the previous game.
However, he kept his momentum to complete the win in a shade under 90 minutes with a total six breaks of his unheralded opponent who won a career-first title two months ago at home in Zagreb.
Ferrer reached his home title shot in just over 90 minutes against Almagro, earning victory on his fourth match point.
"It was a tough win physically," said Ferrer. "It was only two sets but they were hard-fought. I was lucky to play my best in the important moments.
"I'm very happy to be in the final, this is a very important tournament for me. I had to play well to get past Nico. I'm hoping to still feel fully fit for the final," said Ferrer, who has been bothered by a calf problem after two demanding weeks on court.
"The calf felt OK but I could feel it as the match progressed. But I can recover for Sunday."