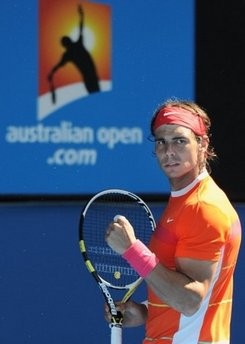 Nadal celebrates winning a point against Ivo Karlovic of Croatia in their men's singles fourth round match on day seven of the Australian Open tennis tournament in Melbourne Jan. 24 (AFP photo)
MELBOURNE, Jan. 24 (AFP) – Defending champion Rafael Nadal set up a blockbuster Australian Open quarter-final against Andy Murray on Sunday but the tournament ended for third seed Svetlana Kuznetsova.
Zheng Jie, meanwhile, rewrote the history books by becoming the first Chinese player to reach the last eight in Melbourne.
Spain's second seeded Nadal was put through his paces by big-serving Croat Ivo Karlovic, who slammed down 28 aces, before he muted the challenge 6-4, 4-6, 6-4, 6-4.
It ensured an enticing last eight showdown with in-form fifth seed Murray after the Scot tamed another big-server, American John Isner, 7-6 (7/4), 6-3, 6-2.
"Murray is one of the more dangerous players on the tour, he can play aggressively and defensively," said Nadal, who has not won a tournament in eight months after being hampered by injury last season.
"I will have to play as well as I can and use my forehand."
Murray will be competing in his first Australian quarter-final and is the first Briton since John Lloyd in 1985 to get this far.
He showcased his exciting strokeplay against Isner and has yet to drop a set in his four victories at the year's opening Grand Slam.
"I'm playing well. No question about that," said Murray, who lost to Nadal in five sets in the fourth round of the 2007 Australian Open.
"I just need to play like I have been and maybe a bit more if I want to win the tournament.
"I've been moving pretty well and I played some great shots out there, so I haven't got much to complain about so far."
The pair have played each other nine times with Nadal winning seven.
Kuznetsova was knocked out by compatriot Nadia Petrova, as the 19th seed continued her giantkilling ways having already ousted Kim Clijsters.
Petrova matched her best performance in Melbourne by winning 6-3, 3-6, 6-1 and will now play either Belgians Justine Henin or Yanina Wickmayer for a place in the semi-finals.
"It's very disappointing because I thought I played very well in preparation," said Kuznetsova.
"I was struggling a little bit, I was not good today. I think I deserved to lose."
Zheng's achievement was impressive, with the unseeded 26-year-old upsetting Ukrainian 31st seed Alona Bondarenko 7-6 (7/5), 6-4 as as she and Li Na, who plays her fourth round match on Monday, continue to fly the flag for China.
The victory sets her up with a crack at either second seed Dinara Safina or fellow Russian Maria Kirilenko, who play later Sunday.
Zheng proved to be marginally steadier than the Ukrainian in a match where both women struggled to hold their serves.
"I think Australia is lucky for me because I won my first Grand Slam doubles title in Australia (with Yan Zi)," Zheng said.
"I'm also so happy I'm in the quarter-finals.
"But I think we can go further because you can see Li Na in the fourth round -- I hope both Chinese players can be in the semi-finals."
Seventh seed Andy Roddick will aim to join Murray and Nadal in the quarters when he takes on Chilean 11th seed Fernando Gonzalez in an evening match.
The prize will be a showdown with US Open champion Juan Martin del Potro or 14th seeded Marin Cilic of Croatia.