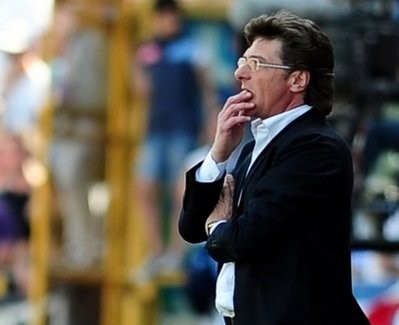 AFP - Napoli coach Walter Mazzarri
ROME (AFP) – Napoli coach Walter Mazzarri insisted he was still pleased with his side despite a second consecutive defeat almost certainly ending their title hopes.
Napoli gave up a 1-0 lead to lose 2-1 at Palermo and dropped to nine points behind leaders AC Milan, who won 1-0 at Brescia, with four games left.
And following on from their 2-1 home defeat to Udinese last week, if either Milan win one more game or Napoli lose again, they would no longer be able to win the title due to their inferior head-to-head record.
"Having seen how vigorously Palermo played and to think that we're 15 points ahead of a team like that shows what a great season we're having," he said.
"We deserved to draw but we didn't manage it and that's it. We're still having an exceptional season."
However, he admitted that his players are lacking in title-chasing experience.
"When we get close to an achievement some horses stay calm because they're used to it and others are worn out by nerves," he said.
"Those who know football know this. There are those who have been fighting for certain things for years and know how to manage their emotions.
"We're very young, I know my team's strengths and weaknesses."
Mazzarri also criticised the club's fans, accusing them of being too demanding of a team who finished sixth last season.
"The fans have to leave us in peace and realise that we've had a fantastic season," he said.
Napoli took the lead after just two minutes following a Mattia Cassani hand ball in the area.
Uruguay striker Edinson Cavani notched his 26th goal of the season from the spot to draw level with Udinese's Antonio Di Natale at the top of the Serie A scoring charts.
But Cassani made amends when he crossed for Federico Balzaretti to hit a crisp cross shot past goalkeeper Morgan De Sanctis.
And Palermo went ahead just before half-time despite having a goal wrongly ruled out.
Antonio Nocerino lashed home after Giulio Migliaccio had gone down in the box, only for the referee to have already blown his whistle and award a penalty.
But Cesare Bovo made no mistake from the spot.
The defeat dropped Napoli to third, a point behind champions Inter Milan, who won 2-1 at home to Lazio.
Napoli still have a five-point gap to fourth-placed Lazio meaning eight points from their final four games will guarantee them direct entry into next season's Champions League.