The national football team at the moment has no coach and so far there seems to be no likely takers for the job either, seeing that the job could well damage any individual prestige and honor with a single defeat of a match.
Although the job comes with a monthly salary of VND200 million (US$9,500) and a three-year contract, many see it as a poisoned chalice.
A former coach of the national team said candidates were hesitant because they didn't want to damage their reputation.
"They have time to build a team and achieve success at their local clubs, but the national team job involves forming a team made up of individuals who are trained to play in different styles of football,' he said.
"There's also pressure from the media, fans and the Vietnam Football Federation (VFF) when the national team competes at major tournaments, and they can be fired at any time," he added.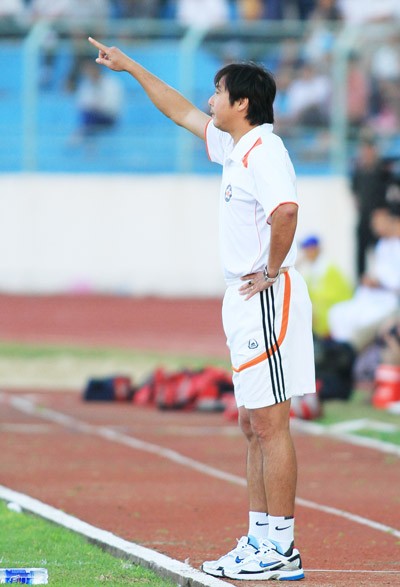 Le Huynh Duc - manager of the V-League champion SHB Da Nang (Photo: SGGP)
The VFF also fired German coach Falko Goetz after poor performance at the 26th Southeast Asian Games in 2011.
The position has been vacant since VFF sacked Coach Phan Thanh Hung following a poor performance at the ASEAN Football Federation Suzuki Cup last year.
Khanh Hoa team coach Hoang Anh Tuan early this month turned down the role saying he was not ready to manage the national team, and negotiations broke down with Nguyen Huu Thang from Song Lam Nghe An.
On January 9, Vietnam Football Federation announced that Le Huynh Duc will likely take charge of the national football team for two upcoming matches at the 2015 Asian Cup qualifier.
At a VFF meeting on Tuesday, Duc, manager of the V-League champion SHB Da Nang, was mentioned for the post of acting manager.
Though young, Duc delivered remarkable performances in recent seasons.
Duc, 41, received more votes due to his impressive profile as a striker and coach. Duc was a key player belonging to the golden generation of Vietnam.
He has won the Golden Ball award--given to the best player of the season--and the best striker of the year award three times.
However, Coach Le Huynh Duc refused to take the driving seat of the national team after a meeting on January 10 with the Vietnam Football Federation general secretary Ngo Le Bang.
"I can confirm that I did not turn down the position during the meeting with the VFF, but unfortunately, SHB Da Nang's competition schedule clashes with the national team schedule," Duc said.
SHB Da Nang is scheduled to play Saigon Xuan Thanh in the Super Cup on February 19, and then host Kien Giang in their V-League curtain-raiser on March 2.
Da Nang will also welcome a football team from Myanmar in the first leg of the Asian Football Confederation (AFC) Cup on February 27.
Meanwhile, the national football team is scheduled to play a friendly match against South Korea's Hyundai Mipo Dolphin in Hanoi on January 31 before hosting the United Arab Emirates on February 6.
Vietnam will then play Hong Kong on March 22.
The VFF wants someone in place by January 15, but is struggling to fill the position.
The federation now has its eye on Hoang Van Phuc and Mai Duc Chung.