Law firm AIC said November 27 that seven naturalized foreign footballers want to sue the Vietnam Football Federation (VFF) for a new rule that restricts each V-League club from fielding more than one naturalized player in a match.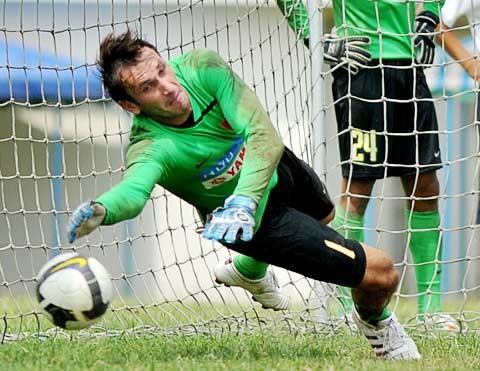 Goalkeeper Dinh Hoang La (Mykola) from Ukraina, in Ninh Binh Club one of seven players wants to sue VFF. (VnExpress)
The seven are Phan Van Santos, Phan Tran Issac, Phan Le Martin, Dinh Hoang Max, Hoang La, Doan Van Nirut, and Doan Van Sakda.
AIC has written to the VFF and is waiting for its response to start legal proceedings.
If the VFF fails to revoke the regulation, the seven are also considering complaining to their local governments and the world governing body FIFA, AIC said.
The VFF chairman, Nguyen Trong Hy, refused to comment about the issue saying the VFF has not received any communication from the seven players.
The VFF has recommended to the Ministry of Justice to adopt the new regulation and the outcome depends on the ministry's decision, he added.
The Vietnam Football Championship was turned into the professional organization named V-League in the 2000-2001 football season. From then on, foreign players were permitted to play football in Vietnam.
In 2007, Brazil's Santos was the second foreign player to be naturalized in Vietnam. The first was Ludovic Casset (France), who has a Vietnamese name – Ma Tri. However Casset's mother is Vietnamese.
Getting Vietnamese citizenship for foreign players has become a trend in Vietnam and the fastest way to enhance the strength for local football clubs. At present, there are nine foreign players naturalized in Vietnam, including: Phan Van Santos (Dong Tam Long An), Doan Van Nirut and Doan Van Sakda (Hoang Anh Gia Lai), Phan Le Martin, Tran Le Issac (Hoa Phat Hanoi), Dinh Hoang Max and Dinh Hoang La (Ninh Binh), Huynh Kesley (Binh Duong) and Nguyen Rogerio (Da Nang).
Meanwhile other teams are completing formalities to naturalise in Vietnam for other foreign footballers, such as Jonathan, Issifu (Khanh Hoa), Das Silva and Deiryo (Ninh Binh), Helio and Valdiney (Song Lam Nghe An), Aniekan and Williams (Hai Phong), Issawa and Tshamala (Dong Tam), Almeida (Da Nang) and Abbey (Binh Duong)