MOENCHENGLADBACH, Germany, March 29, 2011 (AFP) - Australia captain Lucas Neill said the Socceroos' shock 2-1 maiden victory over hosts Germany was the perfect response to last year's World Cup defeat.
Two goals in two stunning second-half minutes by Blackpool midfielder David Carney and a penalty from Dynamo Moscow's Luke Wilkshire floored the Germans after Bayern Munich striker Mario Gomez had earlier put the hosts ahead.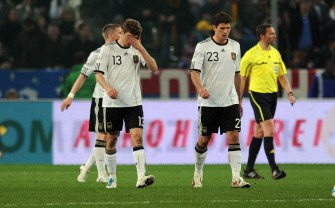 AFP - Germany's strikers Thomas Mueller (L) and Mario Gomez react during the friendly football match
This was Australia's first win over Germany after three straight defeats, the last of which came in Durban last June when the Germans hammered the Socceroos 4-0 in their opening game of the South African World Cup.
Galatasary defender Neill, who led the Socceroos on both occasions, said the win helped make up for both the disappointment in Durban and losing the Asian Cup final to Japan in January.
"It's just a great response, like we always seem to do, we learn from our mistakes and make sure we don't do it again," the 33-year-old told AFP.
"As well as losing the Asian Cup final, it has been a great education to bounce back.
"We put those bad performances behind us and come back with a really good win.
"This is great for the future of the game in our country: by knocking off big teams, we keep surprising ourselves with good performances and give the young lads an amazing platform to build on.
"This will make us stronger.
"The momentum is with us and it is important to keep getting results like this.
"We'd have taken this result in the World Cup, but we live and learn and we'll be a better team for it and that is important for the country."
Neill said he was surprised by his side's poor first-half performance.
"I was a bit surprised in the first-half, we didn't show the hunger and belief we usually show as the under-dog," he said.
"We made a few adjustments during the half-time break and they paid off.
"We kept giving the ball away in the first-half, we adjusted and created those two chances.
"Once we got our noses in front, we made it hard for them.
"It's a huge win, we have come away with an historic and amazing victory."
Germany coach Joachim Loew, whose team finished third in South Africa, was punished for naming a weakened side with the most embarrassing defeat of his four-and-a-half year tenure.
"That is a little unfortunate," admitted Loew. "In the first-half, I thought the young players actually did quite well.
"But in the second-half we threw the game away.
"I didn't think it was a foul for the penalty.
"I can take a few conclusions from this performance, the young players will learn from this experience."
For Australia's German coach Holger Osieck, who took charge last August and steered his side to the Asian Cup final in January, this was arguably his country's biggest win on a football pitch.
"It would have been presumptuous before the game to believe that we could win," said Osieck, who was Germany's assistant coach when they won the 1990 World Cup title in Italy.
"In addition, I know the German team very well and know their quality. We just wanted to put in a good account of ourselves.
"We had a few weak points in the first-half and lost the ball too quickly. But we just got better and better in the second half."