LONDON, Aug 7, 2011 (AFP) - The most daunting rebuilding job of Sir Alex Ferguson's career gets under way this season as the Manchester United manager attempts to shape a team capable of vying for domestic and European honours.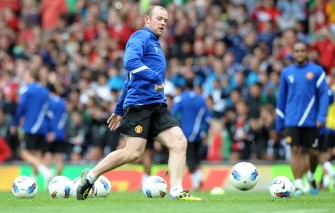 AFP - Manchester United forward Wayne Rooney takes part in a public training session at Old Trafford in Manchester on August 6, 2011. United take on Manchester City in the Charity Shield at Wembley on August 7.
Humbled by Barcelona in the Champions League final in May, sources close to Ferguson say the ferociously competitive United boss has spent much of the close season simmering over his team's 3-1 defeat at Wembley.
It was a match that saw the swansong of several United stalwarts including Edwin van der Sar and Paul Scholes, while other long-serving United squad players such as Wes Brown and John O'Shea have since been sold.
Arriving in the opposite direction are Aston Villa's Ashley Young, Blackburn defender Phil Jones and Atletico Madrid's Spanish goalkeeper David De Gea.
Ferguson will also welcome back young prospects Danny Welbeck and Tom Cleverley, both of whom spent last season on loan at Sunderland and Wigan respectively.
The infusion of fresh blood, with the possibility of more signings to follow, could well be the foundations of United's next great side.
"We've actually got 11 players aged 22 and under with us, so it could be an emerging team again," Ferguson said.
"There are also some experienced players who are maturing and will carry the responsibility. Nemanja Vidic, Patrice Evra and Rio Ferdinand have responsible roles. So do Ryan Giggs, even though he is 37, Michael Carrick and Michael Owen.
"These are experienced players and the young players will be desperate to get in their positions so I think it's a healthy position we're in."
The signs from United's pre-season tour of North America were encouraging, with Cleverley impressing in a 2-1 victory over Barcelona.
Perhaps most significantly, United's talisman Wayne Rooney looks ready to rediscover the swagger which deserted him last term, when he came close to leaving United after accusing the club of failing to match his ambitions.
Rooney looked lean and sharp during the US tour, suggesting that he is ready to lead United's quest for a 20th title.
Ferguson meanwhile accepts that Manchester City have joined Arsenal, Chelsea and Liverpool as the biggest threats to United's campaign.
"There was a period not so long ago when they were actually in the Second Division and they were never a thorn in our flesh, whereas every year we've had to contend with either Arsenal, Chelsea or Liverpool," Ferguson reflected.
"Nothing changes, one of them will always be a thorn in our flesh. You can't change history. Rather than isolating City, Liverpool or Arsenal, one of them will be a thorn in whether we like it or not."
Ferguson insists the club will not obsess over avenging their Champions League drubbing by Barcelona, stressing that United would never prioritise Europe over the Premier League.
"You have to combine the two. The Premier League is such a tribal confrontation between different parts of the country that you're forced into trying to beat them all the time. You can't get away from that.
"I've got absolutely no doubt Real Madrid would give up anything to win the European Cup. But our mentality is different. I've got to try and show that we're challenging for the league all the time and hopefully have the bonus of winning the European Cup.
"It's cyclical. The Barcelona team is a team of its time and it's a cycle for them, a fantastic cycle. We will try and move on and get above them, but the target is to be in Munich (for the Champions League final) next year," Ferguson said.