The final stage of the Ho Chi Minh Television Cup cycling race with total length of 165 kilometers from Bao Loc city to Ho Chi Minh City closed successfully on occasion of marking the 40th anniversary of the southern liberation and the country's reunification day.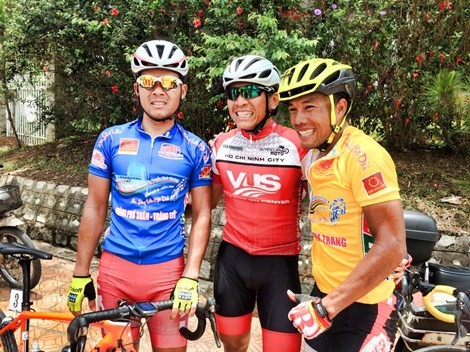 Yellow jersey in this year's race belongs to Nguyen Truong Tai from VUS- HCMC team.
Accordingly, the winner of the final stage was Nguyen Quoc Dung from Ben Tre team, and the yellow jersey went to VUS- HCMC team's racer Nguyen Truong Tai.
Le Van Duan is cycling racers of VUS- HCMC team, who excellently won green jersey. Meanwhile, the red jersey for mountain biking went to Nguyen Tan Hoai from D. Dong Thap team. White jersey for the youngest athlete belonged to Nguyen Hoang Giang.
Hat ngoc troi An Giang team is named the team winner in this year's award.
Last year, racer Ho Huynh Van An from An Giang team won the title of yellow jersey.
The annual Ho Chi Minh City Television Cup cycling race was organized by Ho Chi Minh City Television, and aimed to mark the Sounthern Liberation & National Reunification Day -April 30.