BENGUELA, Angola, Jan 30, 2010 (AFP) - Nigeria pipped Algeria 1-0 to claim third place at the Africa Cup of Nations here on Saturday.
Obinna Nsofor scored the match winner in the 55th minute when he sprinted through a crowded Algerian defence before slotting past a diving goalkeeper Lamine Zemmamouche.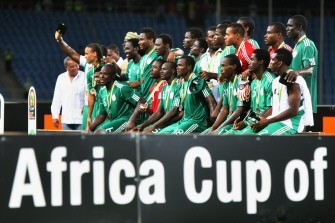 Nigerian footballers celebrate their third-place after their victory over Algeria in the African Cup of Nations CAN2010 at the Ombaka stadium in Benguela on January 30, 2010. AFP photo
This was the Super Eagles' seventh third-place finish at the Nations Cup as they also finished third best in 1976, 78, '92, 2002, 2004 and 2006.
Nigeria made several changes from the team that lost 1-0 to Ghana in the semi-finals with Portsmouth forward Nwankwo Kanu, Nsofor and Seyi Olofinjana among the players who started their first game of the tournament.
Algeria were missing three players suspended from their semi-final loss to Egypt.
Nigeria would have gone ahead after 10 minutes but Nsofor's shot from inside the box was deflected by Algerian defender Slimane Raho for a corner.
Kanu also fired at the Algerian goal after 31 minutes but goalkeeper Zemmamouche held it first-time.
Algeria's best chance at goal in the first half came two minutes from the interval, when Lazio midfielder Mourad Meghni hooked his shot over the bar from almost the top of the 18-yard box.
Just before the break, Nigeria again came close to going in front but Kalu Uche's pass inside the area after a clever ball from Kanu rolled away from goal after Nsofor lost his footing at the crucial moment.
In the 50th minute, Algeria goalkeeper Zemmamouche failed to hold on to a powerful Taye Taiwo freekick from distance, the lively Nsofor got to the rebound only for his effort from eight yards out to crash against the crossbar.
Hassan Yebda was on target in the 72nd minute but Victor Enyeama in the Nigerian goal gathered the low shot as the Algerians now played with more urgency following Nsofor's opener.
Nigeria then held on to their slender advantage to take some consolation out of Angola 2010 ahead of the World Cup.