No foreign team entered the semifinals of the Binh Dien VTV Cup 2008 for female volleyballers being held in Viet Nam's Dak Lak when home team High Command of Communication (HCC) gained a 3-0 victory yesterday over Thai Nakhorn Ratchasima in the quarterfinal.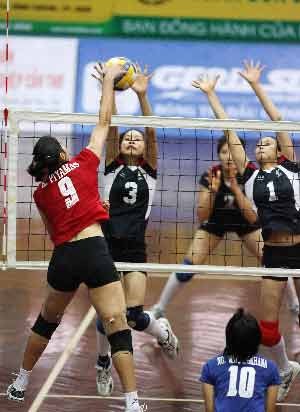 HCC players try to block a fake spike from Thai Piyamas
Early in the first game, middle hitter Pham Thi Yen and Do Thi Minh continuously made some fakes or quick, determined spikes, forcing Thai women onto the defensive.
Notably, HCC's libero Tran Ton Nu Ly Linh excellently blocked all line and cross-out shots from main Thai attacker Piyamas Koijapo. 
However, Ratchasima seemed very redoubtable when they managed to shorten their loosing streak to 22-25 in the first game.
This win soon became a positive encouragement for HCC women to match confidently into the next two games.
Ratchasima had to accept two further losses 26-18 and 19-25 to HCC which pocketed a final 3-0 victory, boosting their rank to second position on Group A. They also earned a ticket to compete in the semifinal.
The other three quarterfinals saw three remaining local candidates for the semifinals, namely VTV Binh Dien Long An, Vital Petechim Thai Binh and Industrial and Commercial Bank.

Related articles: 
Int'l Women Volleyball Tournament Goes On
Int'l Women Volleyball Tournament Kicks off