MELBOURNE, Jan 29, 2010 (AFP) - British fans have been waiting 74 years for one of their men to win a Grand Slam title and Roger Federer promised them Friday they will have to wait a bit longer.
The Swiss world number one faces Andy Murray in the Australian Open final on Sunday and is confident he will be lifting the trophy and not the young Scot.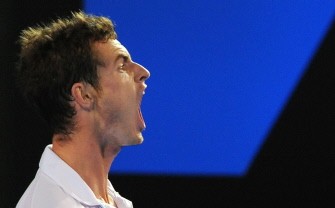 Andy Murray of Britain shouts as he celebrates winning a point against Marin Cilic of Croatia in the second set of their men's singles semi-final match on day 11 of the Australian Open tennis tournament in Melbourne on January 28, 2010. AFP PHOTO
While Virginia Wade won Wimbledon in 1977, the last time Britain had a male Grand Slam winner was in 1936 when Fred Perry claimed the US Open.
After he beat Frenchman Jo-Wilfried Tsonga in Friday's semi-final, Federer joked with on-court interviewer Jim Courier that was "150,000 years, or something like that" since a Brit had got his hands on a Grand Slam trophy.
Later he said he was sure Murray was sick and tired of being reminded.
"I mean, it's just funny because that's the question he probably gets asked quite a bit. Wouldn't be surprised if he's a bit fed up by it," he said.
"I think he's done really well handling the pressure and considering the media in England is very strong. So I think he's done great, under the pressure."
While praising the 22-year-old, he made it clear he wouldn't have any sympathy for Britain's long wait come Sunday.
"I think once your game is good enough, even on your off days to come through, I think that's what he's proving here at the Australian Open now," he said of Murray.
"He's one match away. I'll make sure it won't happen."
Federer said his experience of playing in 21 Grand Slam finals, and winning 15 of them, would come into play.
"He's in his second Grand Slam final now. I think the first one's always a bit tougher than the second one. But now that he didn't win the first one, I think it doesn't help for the second one around," he said.
"Plus he's playing me, who's won many Grand Slams prior to that, been able to win here three times so I know what it takes and how to do it, which is definitely an advantage.
"I don't feel like the pressure's really on me having to do it again, because I did it before. I think he really needs it more than I do, so I think the pressure's big on him."