NELSPRUIT, South Africa, June 26, 2010 (AFP) - Salomon Kalou has welcomed his first World Cup experience against Brazil and Portugal but he wants Ivory Coast to have some overdue luck with the draw if they qualify for the next tournament in Brazil.
The young Chelsea forward scored the final goal in the Elephants' 3-0 win over North Korea at the Mbombela Stadium on Friday, which was not enough to get Ivory Coast through to the last 16 of the tournament.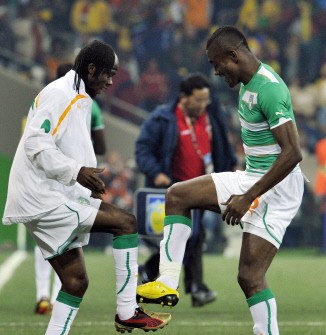 Salomon Kalou (R) celebrates with a teammate after scoring. AFP
Ivory Coast, stacked almost exclusively with European-based stars, yet again found it impossible to qualify for the knockout round.
Four years ago in Germany it was Argentina, Netherlands and Serbia/Montenegro and this time they were placed in another 'Group of Death' along with Brazil and Portugal.
"It has been a good experience for us to play Portugal and Brazil and hopefully at the next World Cup we will have an easier draw and we make it to the next round," Kalou told AFP.
"It was a difficult group. You can see that Brazil got seven points, Portugal five and Ivory Coast four, so it was a hard group to play in.
"I hope for an easier group next time because we need a little push to get to the next level."
Kalou, who has scored 12 goals in 36 internationals, said if he leaves South Africa with any regrets it would be the Elephants' performance in the 3-1 loss to Brazil in their second match of the tournament.
"If I was to have a regret it would be against Brazil because I believe that we didn't play at our level, we didn't play our game, and maybe we were a little intimidated to play Brazil," he said.
"When you play against a team like that you have to play at your best.
"We should have tried to win the game rather than draw with Portugal. We started well and in the end we were pushing and creating chances but we didn't put the ball in the back of the net.
"To play against a team like that you have to take every chance that you have otherwise you can't make it."
Team skipper Didier Drogba said Ivory Coast could not be too disappointed with their results at the World Cup.
"I am disappointed because we are out of the competition, but at the same time we can't be too disappointed because of what we produced against North Korea and the game against Portugal (a 0-0 draw)," he said.
"I think we did our best and actually we were in a tough group.
"I am proud to be part of this team and represent Ivory Coast as we try to do."
Drogba, who has 42 goals in 72 internationals, had a word of praise for former England coach Sven-Goran Eriksson after his short stint as the Ivory Coast handler.
"Sven only had a chance to work with us for a month or so and to show what we did today (Friday)," the Chelsea striker said.
"Vahid Halilhodzic was our former coach and he had already done a lot of good work with us and that made it a little bit easier for Sven to come in and manage the team so well.
"It won't be easy for Sven to stay with us. I think if you asked him about staying he would say yes because he found it a very good team to work with and a good spirit in the squad.
"Really, he's a leader, so we are very happy with him and I don't know what his future is going to be, but it was nice to work with him."