MANCHESTER, England, April 6, 2010 (AFP) - Sir Alex Ferguson insists he will not take any chances on Wayne Rooney's ankle as he looks to overturn a deficit against Bayern Munich and take Manchester United into the Champions League semi-finals.
After suffering ankle ligament damage in last week's 2-1 defeat at the Allianz Arena England striker Rooney was initially ruled out for "two to three weeks" by Ferguson on Friday.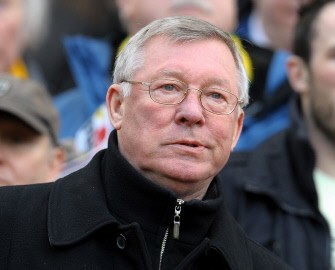 Sir Alex Ferguson (AFP photo)
Recent reports suggested Rooney could make a shock return against Bayern, but Ferguson is adamant he will not risk the striker despite the importance of the match.
He revealed that he expects Rooney to return against Manchester City next week but could return to the bench at Blackburn on Sunday.
He said: "We have made some good progress with the lad, the medical team have done fantastic but I'm not prepared to take a risk if the players not 100 percent fit.
"We're looking more at the Manchester City game, maybe Blackburn as a sub is possible.
"The boy's making progress, good progress, the medical team have done a fantastic job.
"But it's an ankle injury, it's just the same as any other ankle injury and he's just the same as anyone else and I can't take a risk if the player's not 100 percent."
When was asked whether Rooney would be on the bench against Bayern, he added: "I don't think so but he may talk me into it. It's a difficult one."
Following United's 2-1 defeat in Munich, they suffered a loss by the same score-line against Chelsea.
United have only over-turned a first leg deficit in the Champions League, once in their history.
They have failed five times but after losing 2-1 against AS Roma three years ago, they beat the Italians 7-1 at Old Trafford.
Despite the frustration of the past week, Ferguson is confident that his side can bounce back and secure a place in a fourth straight Champions League semi final.
He added: "They're two bad results and it doesn't often happen here and you have to recover from it and the best way to recover is by a better team performance and if we have a better performance than we did in Germany then we'll have a great chance.
"The opportunity of playing at Old Trafford knowing you have to score one goal to be in the driving seat, is a big advantage and a big incentive.
"It's also an incentive to get to the semi final of the European Cup.
"It would be a fantastic achievement to come back from a goal down against Bayern.
"Bayern are a very good team, very experienced, and that's an incentive but most people will think we have a good chance and I think we've got a very good chance.
"The tie's not over and there's still work to be done but that away goal does make a difference in the modern-day game.
"Goals are hard to come by in big games and I would be happy with 1-0."
Influential Dutch winger Arjen Robben could return from a calf problem for Bayern, as he insists he is ready to play.
"I haven't come here to sit on the bench. I am ready for the game ... but of course the manager must decide," said Robben.
But Ferguson insists his team are not worried about the former Chelsea player and also dismissed concerns that Gary Neville could be over-run by Franck Ribery.
He said: "We've played against Robben a few times when he was at Chelsea and I don't think there's a fear factor there.
"His form with Bayern has been very good and he's been probably their star player this year but we've faced him a number of times of the years and we know enough about him.
"Ribery's a very talented player and we recognise that. It's the first time we've faced up to him in his career but we've played against a lot of great players over the years.
"I think Ribery's a very talented player and a great dribbler of the ball but he's not any quicker than Gary Neville."