LONDON, June 13, 2011 (AFP) - David Beckham insisted Monday he was content to be a spectator at next year's London Olympics if there was no role for him in the controversial Great Britain football team at the Games.
"Football will be a massive part of the Olympics and it will be really exciting to see that," said the former Manchester United star, who now plays for the Los Angeles Galaxy.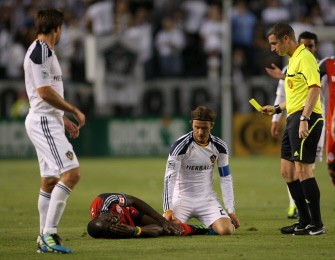 David Beckham #23 of Los Angeles Galaxy receives a yellow card as Tony Tchani #22 of Toronto FC writhes in pain from a hard tackle by Beckham in the first half during the MLS match at The Home Depot Center on June 11, 2011 in Carson, California.
"This is the first time I will have been to an Olympics and I'll probably be there with my children.
"Football has been a part of my life for many years and to be a part of that would be incredible.
"We'll see what role I'll play in the build-up or at the Olympics, but I'll be there as a fan.
"I want to watch athletes like (British heptathlete) Jessica Ennis and (British diver) Tom Daley, young athletes who are going to inspire so many young children around the world.
"For myself to be able to take my sons to an Olympics in our country makes me proud. Hopefully my daughter will be there as well," he added.
Victoria Beckham is due to give birth to the couple's first daughter next month.
Beckham was speaking at a sponsor's event to announce that Gabriella Roseje, an 18-year-old from Bermondsey in London, is the first successful nominee for the Olympic torch relay.
The former England captain, one of the world's best known sporting celebrities, helped secure the Games for London at a meeting of the International Olympic Committee in Singapore in 2007.
"When I was asked to be part of the Olympic bid, I was very sceptical at first because I'd never competed in the Olympics, I'm a football player," the 36-year-old midfielder explained.
"To be part of a team that was trying to bring the Olympics to my country, let alone somewhere where I grew up, was a great honour and very flattering.
"The moment when we got the Olympics was one of the most rewarding things of my career. It was so special.
"The Olympics means the world to everyone. It's such a great event to be part of," he added.
"I remember the rivalries between people like Sebastian Coe and Steve Ovett (the British middle-distance greats who won gold at the 1980 Moscow Games in the 800 and 1,500 metres respectively).
"There will be some exciting athletes coming to our country, coming to London which is where I grew up. It's a very exciting prospect."
The prospect of fielding a British football team at the Olympics has provoked strong reactions in Scotland, Wales and Northern Ireland.
Many fans and officials fear it could be the start of a slippery slope that eventually sees those countries cease to be independent football nations, despite assurances from governing body FIFA.