Former world No.1 tennis player Juan Carlos Ferrero will join the Heineken Stars tournament in Ho Chi Minh City on September 23, replacing French star Gael Monfils who has been injured, the tournament organizers announced Thursday.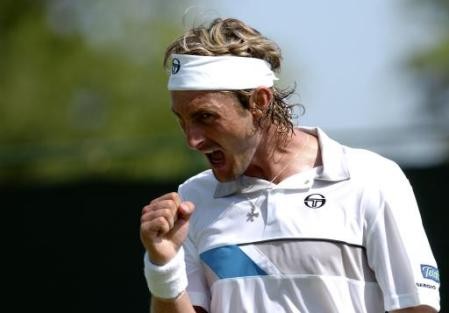 Juan Carlos Ferrero
Spanish star Carlos Ferrero, who was the world No.1 in 2003 and currently ranks 18th on the ATP table, will compete with international superstars Carlos Moya also from Spain, Nicolas Kiefer and Rainer Schuettler from Germany in the one-day tournament held only for the four players.
The organizers – the Viet Nam Tennis Federation, Heineken producer Vietnam Brewery Ltd., and the local company TLT Sports Marketing – have tried their best to arrange the replacement of the injured Frenchman. Just a few days ago, the organizers announced the four names to be Moya, Kiefer, Schuettler and Monfils.
The unexpected replacement sounds better for Vietnamese fans because Carlos Ferrero has been more famous than 20-year-old Monfils, who turned professional in 2004 and currently ranks 31st on the ATP table.
Therefore, it is expected that September 23 will be a more special day with two Spanish men and two Germans.
Heineken Stars 2006 will be staged at Nguyen Du Indoor Stadium in District 1 at 3:30 pm. After the first two matches, the two players left standing will take a 30-minute break before the final. The champion will receive US$40,000, the runner-up US$20,000 and the two others, who will play only one game, US$10,000 each.
Spain's Carlos Moya was born in 1976 and was the world No. 1 in 1999. He currently ranks 48th on the ATP table.
Kiefer, one year younger than Moya, turned professional in 1995 and earned his highest ATP ranking – fourth – in 2000. The No.1 German was a semifinalist in the Australian Open 2006 and currently stands 20th in the ATP rankings.
Schuettler , born in 1976, also turned professional in 1995. His highest ATP position was fifth in 2004 and is now 78th.
Related article
Moya, Kiefer, Schuettler, Monfils to Compete in Viet Nam