LONDON, April 11, 2010 (AFP) - Martin O'Neill launched an angry attack on John Terry, accusing the defender of making a career-threatening challenge on James Milner during Chelsea's 3-0 FA Cup semi-final victory over Aston Villa.
Villa manager O'Neill claimed Milner was lucky to escape with just heavy bruising following the 74th minute tackle that led to Chelsea captain Terry being booked by referee Howard Webb at Wembley on Saturday.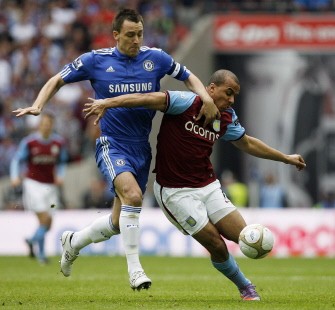 John Terry (L) vies with Aston Villa's English striker Gabriel Agbonlahor (R) during the FA Cup semi-final football match at Wembley Stadium, London, on April 10, 2010. AFP PHOTO
"It was an awful challenge on an England colleague and James Milner is very lucky his career is still intact," said O'Neill. "The referee has given him a yellow card. But it should have been a red.
"James is very sore and very, very lucky. We think he has got away with it. But if you see the challenge, his knee bends out.
"I've just spoken to the doctor and he says he is very, very lucky. He was turning away from goal and Terry's coming in. I'm very disappointed with it. It should have been a red card. It was a desperately poor challenge."
O'Neill's sense of injustice was increased by what he believes was a glaring mistake by Webb to deny his side a 16th minute penalty after Gabriel Agbonlahor was brought down inside the penalty area by John Obi Mikel when the match was still scoereless.
The manager was adamant his side should have been awarded a penalty and that Mikel should have been sent off for denying a goal-scoring opportunity.
To make matters worse from a Villa point of view, O'Neill insisted the incident was the second time his side had been the victims of a bad decision in a major match at Wembley this season.
In February, the manager claimed Manchester United's Nemanja Vidic should have been sent off when he conceded a penalty after bringing down Agbonlahor early in the League Cup final.
United went on to win that game, as did FA Cup holders Chelsea on this occasion with Carlo Ancelotti's side rallying through second half goals from Didier Drogba, Florent Malouda and Frank Lampard.
"I'm sitting here again about five weeks on and talking about major incidents in the game that affect the game," added a frustrated O'Neill.
"The penalty was clear cut, the Chelsea players knew it was a penalty. The referee has chosen to ignore it because of the possible consequences.
"It was a clear goal-scoring opportunity. It was a clear sending-off but we didn't even get the penalty.
"I accept there are decisions you don't agree with but there are incontestable decisions.
"The consequence of it all is in referees' minds. They should apply the law. That's all I'm looking for, a bit of fair play.
"Five weeks ago the referee bottled it completely. I don't know why he didn't make the decision. It's just maddening. Maybe we have just been desperately unlucky. They are game-changing decisions.
"I thought it was an injustice."
Chelsea remain on course to complete a Premier League and FA Cup double but Ancelotti insisted he was not looking too far ahead with five league games and the final, against either Portsmouth or Tottennham, who play on Sunday, still to come.
"We are in the final of the FA Cup, we have five games in the Premier League and we have to analyse every game," the Italian said. "We have to pay attention because every team we play at the end of the season will be wanting to win.
"I don't want to think about winning cups. I don't want to think about 'if'. We know we are close to winning but we haven't won anything yet."