IRENE, South Africa (AFP) - A United States team that was only moments from crashing out of the World Cup now finds itself the top-ranked team in its quarter of the knockout draw and pondering a deep run.
The Americans, who beat Algeria 1-0 on Wednesday to advance, will face Ghana on Saturday at Rustenburg in a round-of-16 match with the winner to face either South Korea or Uruguay on July 2 to determine a berth in the semi-finals.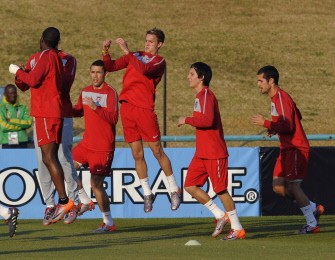 Members of the US national football team take part in a training session at Pilditch stadium in Pretoria on June 24, 2010. AFP
With Argentina, England and Germany grouped together away from them based upon group stage results, the 14th-rated Americans suddenly are favourites to reach the semi-finals.
"Two more wins would be great for us, but why not four more?" US forward Jozy Altidore said. "Anything is possible. We are in it to win it."
For most players, it's almost as if uttering the words, actually talking about Americans holding aloft the trophy on July 11, might break the magic spell the team has conjured in a stoppage-time win and two rallies for draws.
But make no mistake, US forward Landon Donovan—goal-scoring star of the US triumph—understands "opportunity" is knocking for something "special".
"It's not a failure if we don't win Saturday but we have a great opportunity to accomplish something special," Donovan said. "We feel like we can beat any team in the world. All we know now is that Ghana is next.
"I can't emphasize enough how big this opportunity is and how we need to take advantage of it."
Donovan scored what he called the greatest goal of his life in the first minute of stoppage time to beat Algeria
"At the moment there was just relief. It turned into joy and bliss and something I will never forget," Donovan said.
"I live in the moment now. That means forgeting about the bad moments and the good ones. I will enjoy this more than most goals but I've already got my head around Saturday and the opportunity that represents."
US goalkeeper Tim Howard is not lacking for confidence either.
"We're excited about this opportunity," he said. "We feel like we have got every chance and that excites us. We have gone undefeated and we have gotten better and that gives us hope."
Donovan split last July with actress Bianca Kajlich, but spoke with her after his heroics and said Thursday they are not officially divorced. He credited her with helping him grow as a person and a player in recent months.
He said the 'old' Donovan likely would have squandered his opportunity against Algeria and another goal against Slovenia with negative thoughts.
"I would have probably gotten ahead of myself and said, 'Shoot, we are going home'," Donovan said of the Algeria game.
"I wouldn't have been able to snap out of that (early frustration against Slovenia). We might have come back and tied it but I don't think I would have scored that goal."
After taking the blame for a 2006 first-round flop, Donovan has enjoyed seeing Bill Clinton and Super Bowl star Reggie Bush celebrating in the locker room as well as e-mails and messages from energized home supporters.
"There has been quite a big response. It's nice to share in some of that," he said. "It would be cool to be in a bar somehwere and experience it. I'm going to choose this, though."