The Yonex Sunrise Vietnam Open, a tournament in the Grand Prix badminton series across the world, will take place in Ho Chi Minh City October 6-11 with 202 players participating, the organizing committee announced Tuesday.
The competitors come from 14 countries and territories: Australia, Hong Kong, Indonesia, Japan, Kazakhstan, Laos, Malaysia, Philippines, Singapore, Taiwan, Thailand, USA, Vietnam and the Wales.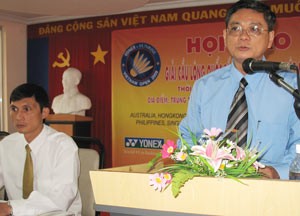 Pham Quang Ban, deputy head of the Yonex Sunrise Vietnam Open Grand Prix 2009, speaks about the tournament at a press briefing in Ho Chi Minh City Sep. 22 (Photo: Tuong Thuy)
The 202 players, including 66 Vietnamese, will compete in the men's singles, women's singles, men's doubles, women's doubles and mixed doubles at Phan Dinh Phung Stadium in District 3.
The US$50,000 prize cash event is a good chance for Vietnamese players to better prepare for the third Asian Indoor Games in Vietnam late October and the 25th Southeast Asian Games in Laos in December, Mr. Pham Quang Ban, deputy chief of the organizing committee, said at Tuesday's press briefing.
Home favorite and world No.9 Nguyen Tien Minh is seeded first in the men's singles. Another strong title contender, Andre Kurniawan Tedjono from Indonesia, world No. 18, is seeded second, followed by world No. 42 Hayom Rumbaka, also of Indonesia.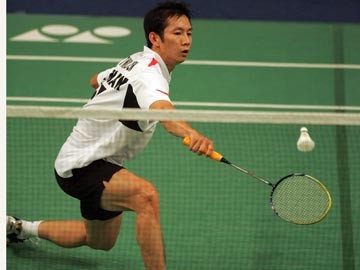 Nguyen Tien Minh in a Yonex Sunrise tournament (file photo)
World No. 61 Chong Wei Feng of Malaysia is another strong title competitor, said Mr. Tran Nguyen Tri Dung, a member of the organizing committee. Chong came third in the Yonex Sunrise Vietnam Open 2007.
Ho Chi Minh City badminton fans will be looking to celebrate at the end of this exciting action-packed badminton week, hoping that Nguyen Tien Minh will keep the crown at home.
Late August, he won the Yonex Sunrise Taiwan Gold Grand Prix 2009. He is competing in the Yonex Japan Open Super Series in Tokyo from Sep. 22 to 27.
In the women's singles, seeded from first to fourth are world No.21 Maria Kusumastuti of Indonesia, world No.25 Beiwen Zhang and world No.31 Aiying Xing of Singapore, and world No.33 Lydia Cheah of Malaysia.
All the seeds will look to winning the title as this may be the break they have been looking for to make more consistent forays in the top league of the women's game.

The winners of the men's singles and women's singles will pocket US$3,750 each.
According to the Vietnam Open Grand Prix organizing committee, about 150 players participated in last year's tournament while this year's number is 2002, despite of A/H1N1 flu.